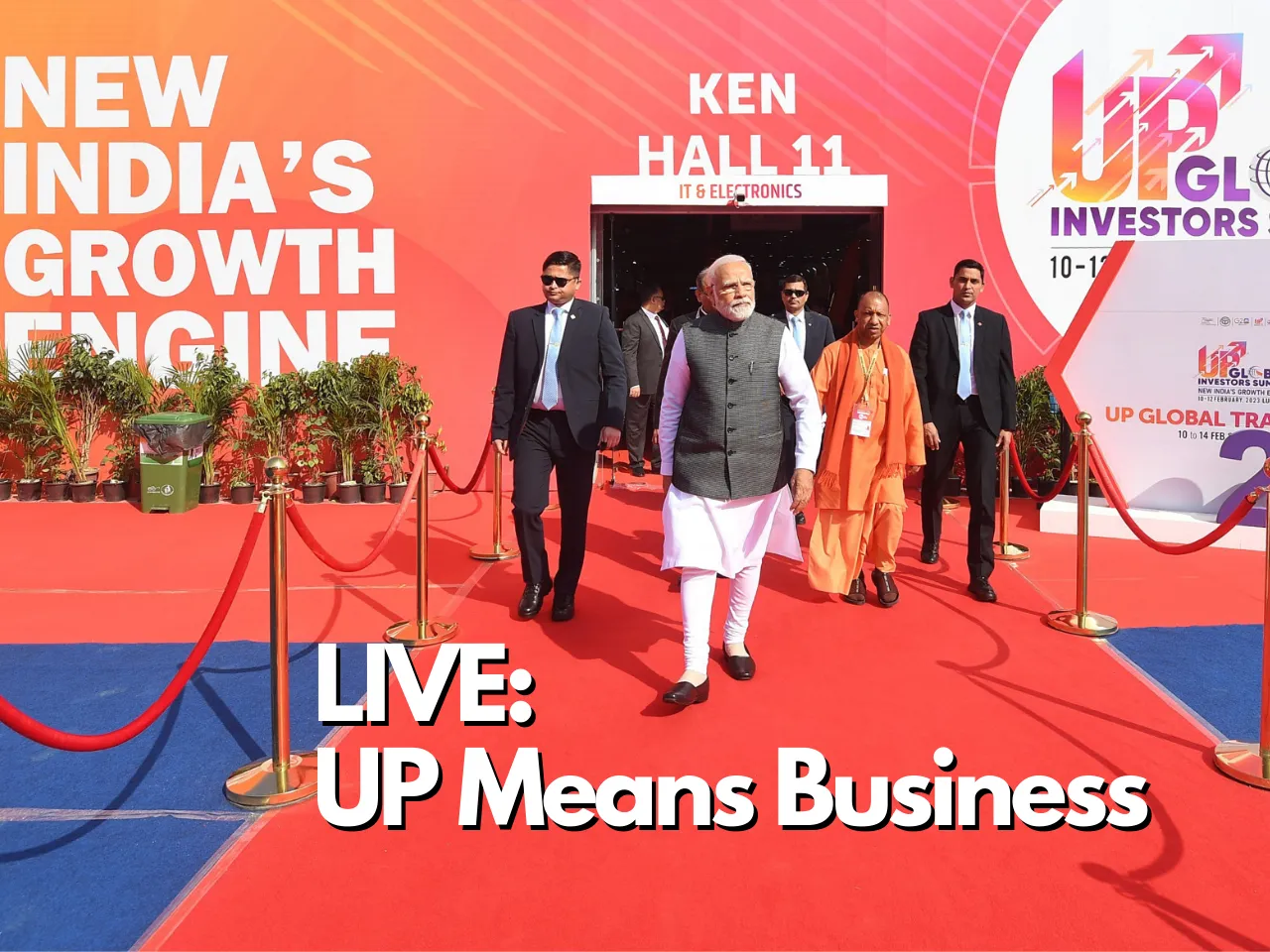 Uttar Pradesh Global Investors Summit-2023 Day 3
The Uttar Pradesh Global Investors Summit-2023 began on February 10 in Lucknow.
The third day of the mega event will witness Union ministers Piyush Goyal, Anupriya Patel and Som Prakash participate in the event. The concluding event in the evening will be presided over by President Droupadi Murmu. 
Organized by the Yogi Adityanath government, this three-day summit brings together global leaders in business, academia, think tanks, and government to explore investment opportunities in Uttar Pradesh. With a target of attracting Rs. 21 lakh crore in investment, both domestic and foreign, this summit is a key event for the state and the country.
Stay tuned to this live blog for updates and developments from the summit.
Day 3
Chief Minister Yogi Adityanath addresses closing ceremony of the Global Investors Summit
UP will be a safe destination for investment: Yogi
Every investment made in UP will be safe, state govt will extend all possible help: CM Yogi
Chief Minister invites UK industrialists to invest in the state
Speaking during the valedictory session of UPGIS on Sunday, Yogi said, "The investment that has come and will come in Uttar Pradesh will not only foster development but also will benefit the investors."
An Outlook Towards Employment
With this investment, 93 lakh jobs and employment will be created.  He said that earlier investment meant investment only in NCR. While today, investment has been received for all the 75 districts of the state in the summit.  
The Chief Minister said that it is a matter of good fortune that on February 10, the Uttar Pradesh Global Investment Mahakumbh was given a new height by Prime Minister Narendra Modi.  In the last nine years, India's respect has increased in the whole world under the leadership of PM Modi.  Uttar Pradesh has also got the benefit of this increased honor in the grand event of the Global Investor Summit.  The global community has been attracted towards Uttar Pradesh as the best investment destination.
Highlighting information about the achievements of the three-day Global Investors Summit, Chief Minister Yogi Adityanath said that investment proposals worth Rs 33.50 lakh crore were received in this global investment summit.  
UP is steadily becoming India's sports hub: Anurag Thakur
Union Minister Anurag Thakur addresses session on 'Decoding the investment potential of the sports sector in Uttar Pradesh and its role in 1$ trillion economy'
UP is building a strong foundation for athletes to bring medals to the country: Thakur
He added: "In 2021, the UP govt felicitated the Tokyo olympic medalist. It is common that the states felicitate the players of their own, but for the first time, the UP government, under the leadership of Chief Minister Yogi Adityanath, took the initiative of felicitating the olympic medalists of the entire country, which is commendable."
Piyush Goyal Addressing UP GIS 2023
There have been commitments to the tune of lakhs of crores to invest in Uttar Pradesh and this has been made possible due to the honest government and safe environment in the state, Union Minister for Commerce and Industry, Consumer Affairs, Food and Public Distribution and Textiles Piyush Goyal said today, while addressing the UP Global Investors Summit in Lucknow. 
Goyal recounted the story that started way back in 2017 when UP Assembly elections were in progress. 'At the time we were given the task of making a manifesto for the party. We met people across the state and people from all sections of life wanted change and able administration. We wondered where we will get the required funds to do what was to be done. Prime Minister was clear that whatever we promised in the manifesto will have to be implemented', he said.  
The Commerce Minister pointed out that there have been commitments of several lakhs of crores rupees by investors at this Summit. It is proof that the people now believe that it is now easy to invest in the state, that the state has an honest system, that law and order is in place and the investors have invested their faith in the people of the state, he said. They believe that the people of UP will, even in the future, vote for such honest government, he added. 
If Uttar Pradesh is prosperous, India too is prosperous: President Murmu
GIS to help make UP the best investment region, give it global fame, says Murmu
President praises Yogi Govt for its far-sighted policies, being action-oriented
President addresses closing ceremony of the three-day UP GIS
MoUs worth Rs 33 lakh crore signed, 93 lakh new jobs will be created
"It is a matter of pleasure that the Government of Uttar Pradesh is encouraging the food processing industry through the Food Processing Policy", she said. Describing herself as a member of the farmer family, the President praised Uttar Pradesh Chief Minister Yogi Adityanath and his team for the efforts being made for the development of agriculture and agro-based industries. 
Day 2
Jal Shakti Minister addresses session with Australia
An investment of more than Rs 10,000 crores is proposed from Australia, thousands of jobs will be created.
State Jal Shakti minister Swatantra Dev Singh said that Uttar Pradesh and Australia have a strong partnership in sectors including security, water, agriculture, and the environment. "Certainly, through UPGIS, our economic ties will undoubtedly improve and Uttar Pradesh will advance in terms of overall development," he added.
Union Civil Aviation Minister Jyotiraditya Scindia Speaks At UP GIS 2023
This land of Ayodhya, Kashi and Mathura has shown the way to the country for centuries: Jyotiraditya Scindia
Union Civil Aviation Minister addresses session on 'Civil Aviation in Uttar Pradesh: The Emerging Opportunities' at GIS
"Yogiraj rejuvenated UP; once there were 2 airports, today 9 airports are functional"
Addressing the investors of the civil aviation sector, the Union Minister described UP as "the most favourable destination for investment". He said: "The way the work has been done in UP in the last 6 years, has surprised everyone. Be it road connectivity or civil aviation, UP has made a big leap in every field. The state, which earlier had only 2 airports, has 9 airports that are functional today while 10 new airports are being built. Apart from this, land survey work has started at 2 airports. Uttar Pradesh is going to become a state with 21 airports in the coming times."
Union Road and Transport Minister Nitin Gadkari Addresses GIS 2023
Uttar Pradesh is the ideal investment destination: Nitin Gadkari
Uttar Pradesh is known for its abundant water resources, energy, human resources, and excellent connectivity: Gadkari
Union Minister Nitin Gadkari praises CM Yogi's vision
Union Minister Nitin Gadkari and Chief Minister Yogi address 'E Mobility,Vehicle & Future Mobility' session
Addressing a session on 'E Mobility,Vehicle & Future Mobility' on the second day of the Uttar Pradesh Global Investors Summit-2023 , Nitin Gadkari said, "Uttar Pradesh is the best destination for investment. Investment opportunities in the field of e-mobility are enormous due to the abundance of water, energy, human resources, and excellent connectivity.
He appreciated Chief Minister Yogi Adityanath's vision and stated that while you may donate eyes, you cannot donate with a vision for progress. To end poverty, employment must be generated, and this will involve both industry and capital investment.
UP is the safest for investment and work, say entrepreneurs
Investment of Re 33 lakh crore, a symbol of your faith in UP govt: Union Minister Bhanu Pratap
An investment of Rs 33 lakh crore has come in the UP Global Investors Summit 2023. This is a symbol of faith on the UP government. Under the leadership of CM Yogi Adityanath, Uttar Pradesh became Uttam Pradesh. UP emerged with opportunities to set up industries. 
Union Minister of State Bhanu Pratap Singh Verma shared that the mafia also acknowledges Yogi's good governance. He was addressing the 'Handloom and Textiles Session: Weaving India's Growth Story' as the chief guest on the second day of the Global Investors Summit 2023 at Dadhichi Hangar-2 on Saturday.
Key Highlights of Pratap's Address
Proposals worth more than 1.88 lakh crore were received in Jhansi, while MoUs worth 1.35 lakh crore were signed.
The Yogi government gave lifeblood to the backward Bundelkhand. Investors are eager to enter there.
By demolishing the CM's target, the investors expressed their desire to invest in UP. More than 8 thousand products are being produced in MSMEs and 11 crore people are engaged in the sector.
If any industrialist in the country and state needs help in MSME, then the UP is available to lend a hand.
UP CM is also working diligently for the "developed India in 2047" dream of PM Modi.








Japanese company inks MoU with GoUP to invest Rs 7200 crore 
Japan's HMI Group to develop hotels in 30 major cities of UP including Agra, Ayodhya and Varanasi
Possibilities of tourism development in Uttar Pradesh are favorable for the hotel industry: Takamoto Yokoyama
Japanese investors share their experiences, say, it is easy to work in UP in the changing environment
Ministry of External Affairs will help UP maintain contact-dialogue with the Govt of Japan and Japanese business community
The Japanese company signed a Memorandum of Understanding of Rs 7200 crore with the Government of Uttar Pradesh in this regard.
Takamoto Yokoyama, Director, Public Relations, HMI Group, which operates more than 60 hotels in major cities of Japan, said, "Uttar Pradesh Chief Minister Yogi Adityanath's efforts to realise and develop the state's tourism potential have created immense possibilities for the hotel industry.  Varanasi has seen a significant increase in tourism after the development of the Shri Kashi Vishwanath Dham Corridor. For us, this is a great chance."
100 billion trade target in 5 years: UAE Min
 UAE's Minister of State said that we have mutual relations with Uttar Pradesh.  We have recently taken forward Government to Government cooperation with each other and I am hopeful that this cooperation will scale new heights.  Apart from traditional investments in Uttar Pradesh, we are also focusing on new and emerging sectors.  These include defence, space, food processing, agriculture processing, climate, drone technology, logistics and many other areas.  In this series, some UAE companies are going to set up food parks in Uttar Pradesh.  We have set a target that the UAE's total trade with India will reach $100 billion in the next 5 years.  Last year, to strengthen India-UAE economic ties, we launched 'I Too, You Too'.  It was very successful.
UP inks MoUs worth thousands of crores of rupees with Lulu Mall and Elana Group 
Products of Self Help Group (SHGs) will also be available in Lulu Malls
MSME Minister Rakesh Sachan urges investors to collaborate with UP
Will reach $100 billion trade with India in 5 years, assure UAE Ministers 
At the same time, Elana Group has also announced investment in the food processing sector.  An agreement has also been signed with Lulu Mall for self-help groups, so that the products made by the women of SHGs can also reach the people through these malls.  
MSME Minister Rakesh Sachan urges investors to collaborate with UP
"We look forward to good relations with UAE in UP.  Last month, our team visited UAE, where Dr. Thani warmly welcomed us.  The Abu Dhabi Chambers of Commerce and Industry also extended a lot of cooperation.  Lulu Mall has signed an MoU of Rs 3300 crore with us, under which it will open its malls in Ayodhya and Varanasi as well as some other places," he further informed. 
Keynote address by Defence Minister Rajnath Singh
"Our habit of dependence slowly turned us into slaves, disrupting the various sectors that were once a testimony of our self-dependence. The country will soon be restored to its lost glory with dedicated engagements," said Singh. 
UP Global Investor Summit Day 2 Begins
PM Modi Addresses GIS 2023 In Lucknow
Prime Minister Narendra Modi begins his address at the Global Investor Summit 2023. 
"If India is today a bright spot for the world, then Uttar Pradesh is an important state that drives the growth of the country," PM Modi.
Modi At GIS 2023: Key highlights 
The demand for 'Made in India' defence equipment growing. A defence corridor is being developed in UP, says PM Narendra Modi.
60% of mobile phones built in the country are made in UP, says PM Narendra Modi.
We have allotted Rs 35,000 crore in the budget for energy transition, says PM Narendra Modi. Says, the focus is on green growth. 
The Union Budget reflected commitment towards development. There is record spending on infrastructure, says PM Narendra Modi. 
India is now carrying out reforms out of conviction and not out of compulsion, says PM Narendra Modi. The country has moved on the path of speed and scale, he adds. 
People of the country want the country to develop and grow. The aspirations of the people are pushing the governments, says PM Narendra Modi.
Every credible voice in the world believes Indian economy will grow at a rapid pace.
From electricity to connectivity UP has improved. The state will become the only one in the country having five international airports. 
UP is now recognised by Good Governance, peace and law and order, says PM Narendra Modi. There are opportunities for wealth-creators here, he adds. 
Celebrating the First Year of "Azadi Ka Amrit Kaal": Yogi
As the country enters the first year of its "Amrit Kal", the Chief Minister highlighted the significance of the investor summit in bringing together stakeholders from various fields - policy makers, corporate leaders, business delegations, educators, and government leaders - on a common platform. 
He stressed the importance of Uttar Pradesh being a part of Prime Minister Modi's vision to transform the state into a 1 trillion dollar economy.
Yogi At GIS 2023: Key highlights 
We have already had 18,643 MoU proposals intending to bring in investment worth over Rs 32 lakh crore, says UP CM.
UP is now known for better law and order. 
UP has doubled its export in the last five years.
In the past six years, UP has tried to grow according to  Prime Minister Narendra Modi's reform, perform and transform mantra.
CM Yogi Adityanath Speaks At GIS 2023
Uttar Pradesh Chief Minister, Yogi Adityanath, addressed the attendees at the Global Investor Summit 2023, highlighting the achievements of the state in the past six years. He attributed these advancements to the guidance of Prime Minister's "Reform, Perform, and Transform" principles, and praised the PM's leadership for inspiring such progress.
"In the past six years, Uttar Pradesh has made significant strides in achieving its goals. This progress is a result of following the PM's mantra of 'Reform, Perform, and Transform' and has been made possible with the PM's guidance and leadership," said CM Yogi Adityanath.
Mukesh Ambani Addresses UP Investor Summit 2023: Highlights
"Uttar Pradesh for India is what India is to world! Uttar Pradesh is emerging as 'Uttam' Pradesh of India," said Mukesh Ambani at the summit.  
Mukesh Ambani announces Reliance's partnership with Uttar Pradesh to transform the state into India's most prosperous state. Here are the top things from his address: 
Jio Rollout of 5G:
Reliance's Jio will complete the rollout of 5G to cover every town and village in UP by December 2023.
Modernization of Various Sectors
Jio platforms will help modernize business, agriculture, healthcare, and governance.
Affordable Education and Healthcare
Jio School and Jio AI Doctor will be piloted to bring top-class education and healthcare to villages and small towns across UP.
Revolutionizing Small Stores
Reliance Retail will revolutionise hundreds of thousands of Kiranas and small stores across UP to help them grow and earn more.
Increased Sourcing from UP
Reliance will increase sourcing of a wide range of agriculture and non-agriculture products from UP.
Renewable Energy
Reliance will set up 10 GW of renewable energy capacity, the largest in UP and start a new bio energy business.
Contribution to "Namami Gange" Mission
Reliance Foundation will contribute to the success of the "Namami Gange" mission and continue to engage with partners and government.
Investment and Job Creation
Reliance has invested Rs. 50,000 crore in UP since 2018 and generated over 80,000 direct and indirect jobs in the state.
Future Investment
Reliance plans to invest an additional Rs. 75,000 crore in UP over the next four years across Jio Retail and renewable businesses, creating over 1 lakh additional jobs in the state.
Aditya Birla Group Announces To Invest ₹ 25,000 Crore In Uttar Pradesh
Aditya Birla Group announced an investment of ₹25,000 crore across various businesses in Uttar Pradesh.
The investment will go into businesses such as cement, metals, chemicals, financial services, and renewable energy.
The group has a significant presence in Uttar Pradesh with over 30,000 employees and an overall investment of ₹40,000 crore.
Uttar Pradesh is creating opportunities for investors and is an example of building new-age infrastructure and efficient governance.
The state has attracted FDI worth $1.1 billion over the last three years and is undergoing a transformation.
The Aditya Birla Group chairman praised the state's infrastructure development, ease of doing business, and industry-friendly administration.
India stands out as a country with a robust democracy, transformational governance, and economic and demographic dynamism.
The chairman expressed his admiration for the leadership of Chief Minister Yogi Adityanath and Prime Minister Narendra Modi in transforming Uttar Pradesh.
PM Inaugurates  UP Global Investors Summit 2023
Watch Here The Live Summit From Lucknow
media widget