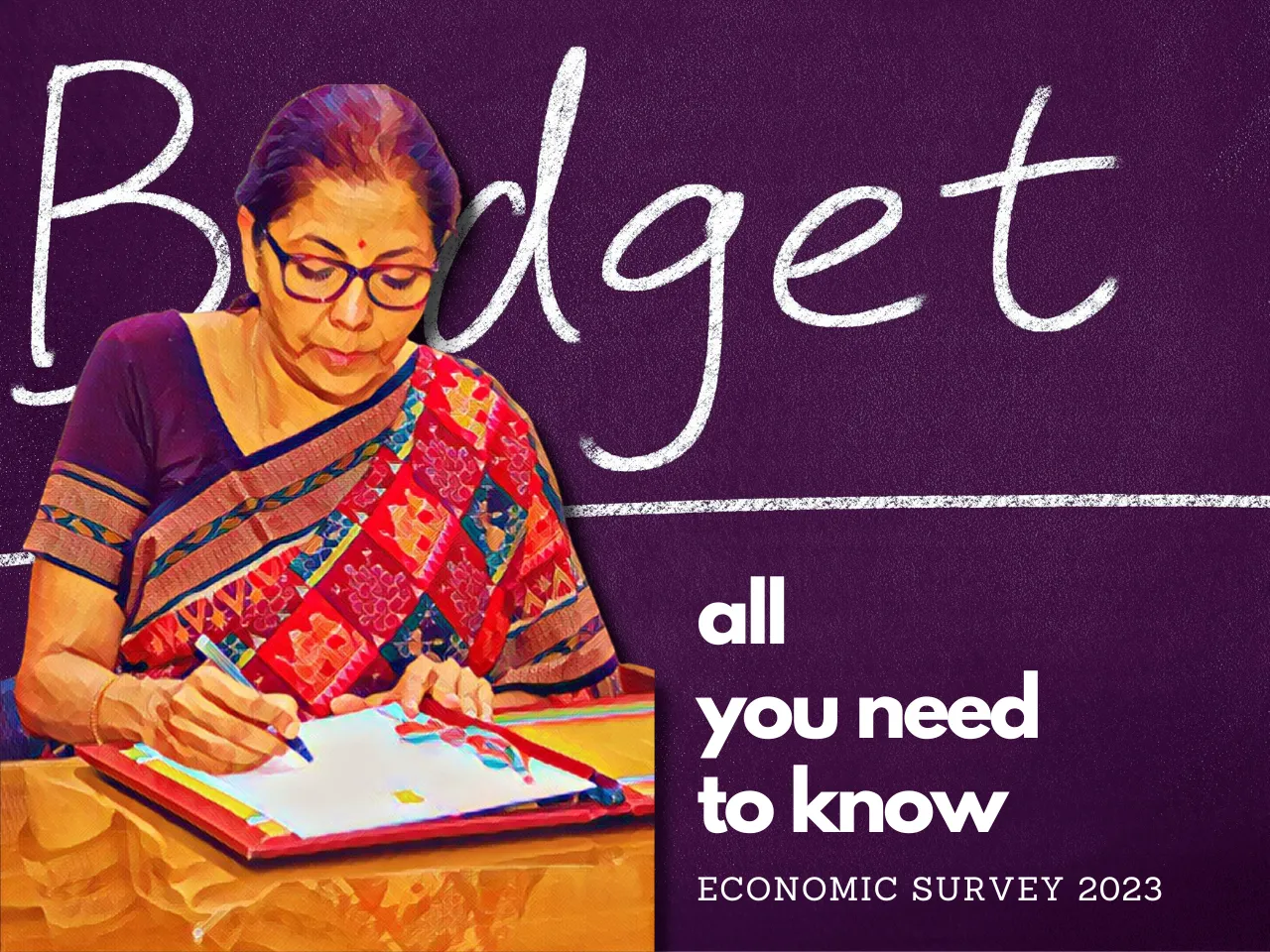 The Economic Survey 2022-23, India's GDP has projected to grow by 6.5 per cent in real. 
Union Finance Minister Nirmala Sitharaman has presented the Economic Survey 2022-23 in the joint session of Parliament. Here are the highlights of India's Economic Survey 2022-23. 
Indian economy staging a broad based recovery across sectors, positioning to ascend to pre-pandemic growth path in FY23.
Retail inflation is back within RBI's target range in November 2022.
Direct Tax collections for the period April-November 2022 remains buoyant.
Enhanced Employment generation seen in the declining urban unemployment rate and in the faster net registration in Employee Provident Fund
Creating public goods to enhance opportunities, efficiencies and ease of living, trust-based governance, enhancing agricultural productivity and promoting the private sector as a co-partner in development is the focus of the government reforms
Cleaner balance sheets led to enhanced lending by financial institutions
Growth in credit offtake, increased private capex to usher virtuous investment cycle
Non-food credit offtake by Scheduled Commercial Banks growing in double digits since April 2022
Gross Non-Performing Assets (GNPA) ratio of SCBs has fallen to a seven-year low of 5.0
Social sector expenditure (Centre and States combined) increases to Rs. 21.3 lakh crore in FY23 (BE) from Rs. 9.1 lakh crore in FY16
Central and State Government's budgeted expenditure on health sector touched 2.1% of GDP in FY23 (BE) and 2.2% in FY22 (RE) against 1.6% in FY21
More than 220 crore COVID vaccine doses administered
Survey highlights the findings of the 2022 report of the UNDP on Multidimensional Poverty Index which says that 41.5 crore people exit poverty in India between 2005-06 and 2019-20
India declared Net Zero Pledge, to achieve net zero emissions goal by 2070
A mass movement LIFE– Life style for Environment launched
National Green Hydrogen Mission to enable India to be energy independent by 2047
Private investment in agriculture increases to 9.3% in 2020-21
Free foodgrains to about 81.4 crore beneficiaries under the National Food Security Act for one year
About 11.3 crore farmers were covered under PM KISAN in its April-July 2022-23 payment cycle
India stands at the forefront to promote millets through the International Year of Millets initiative
Investment of ₹47,500 crores under the PLI schemes in FY22- 106% of the designated target for the year
India's e-commerce market is projected to grow at 18 per cent annually through 2025
Merchandise exports of US$ 332.8 billion for April-December 2022
India is the largest recipient of remittances globally receiving US$ 100 billion in 2022
PM GatiShakti National Master Plan creates comprehensive database for integrated planning and synchronised implementation across Ministries/ Departments
UPI-based transactions grew in value (121 per cent) and volume (115 per cent) terms, between 2019-2022, paving the way for its international adoption
Source: PIB Release
Economic Survey 2022-23: Press Conference
Following are the developments that happened before the presentation of the Economic Survey 2022-23.
The report is expected to reveal a projected growth rate for the current fiscal year of 7%, surpassing the Reserve Bank of India's previous estimate of 6.8%. The survey's release will provide crucial insights into the country's economic performance and steer policy decisions in the coming year.
"The Economic Survey will be tabled by FM Sitharaman today. The Union Budget 2023 will brought keeping all sections of the society in mind and also the country's economy," said MoS Finance Pankaj Chaudhary.
Economic Survey 2023
Finance Minister Nirmala Sitharaman has presented Economic Survey soon! 
After an initial decline, the Indian stock market started to rise. Both BSE and NSE are trading in the red zone. Growth expectations of over 6.5 percent are a booster for market sentiments after a free fall due to the Adani controversy. 
However, Adani group has refused the claims made by Hindenburg.  
Vice President Speaks Before Economic Survey
"India's global relations with other countries are at their best now," said Vice President Jagdeep Dhankhar.
Budget Session 2023 Begins: President Murmu Addresses The Session
"The world looking at India with hope. The country is leading G20." 

"My government is focussing on green growth. Solar energy capacity growth around 20 times in last eight years, says Murmu."

"India moving away from days of policy paralysis," says President Murmu.

'Garibi hatao' is not just a slogan anymore. My government is working to have a permanent solution to the problems of the poor and empowering them."

"India is world's third largest aviation market. India's Railway map includes more and more places including remote destinations."

"New Records set up in the field of physical infra. More roads being created. Rural road netwok above 7 lakh km."

"More than 260 medical colleges opened since 2014, says President Murmu. 

"Our defence exports are on the increase," President Murmu tells Parliament.

"Focus on Innovation and Entrepreneurship. Our youth showing their capability."

"With complete transparency, more than Rs 27 lakh crores have been provided to crores of people. A World Bank report states that with such schemes and systems India was able to save crores of people from dropping below the poverty line during COVID."

"Center is focusing on women's career, and worked towards job creation for women."

"Ayushmaan Bharat scheme has resulted in Rs 80,000 cr of savings for the poor. Govt has spent Rs 3.5 lakh crore on the free food program," says the president of India. 

"Taxpayers are getting refunds within days of filing IT returns," Murmu highlights. 

"Govt e-marketplace has seen transactions worth over Rs 3 lakh crore."

"GST, Ayushman Bharat are boon for India."

"Today, India's self-confidence is at its highest and the world is looking at her from a different perspective. India is providing solutions to the world."
KPMG Predicts Three Big Themes For Budget 2023
KPMG India has shared its predictions for the upcoming Union Budget 2023. According to Naveen Aggarwal of KPMG, the budget is expected to focus on three key themes: implementation of OECD's Pillar 2 and GloBE rules, rationalization of the overall tax regime, and support for India's manufacturing sector. 
IMF Projects India To Record Highest Growth
IMF projections paint a rosy picture for India's economy, forecasting the country to be the fastest-growing large economy in 2023 and 2024. As the nation gears up for the Union Budget and Economic Survey, the IMF predicts a drop in inflation to 5% in 2023 and 4% in 2024, providing a boost to the country's financial stability. Amidst a global economic slowdown, India shines as a beacon of hope, offering a bright outlook in the midst of darkness.
Ahead of the Economic Survey & Union Budget, IMF projections show that India will be the fastest growing large economy in 2023 & 2024. Inflation to fall to 5% & 4% in 2023 & 2024.
The economic outlook for India is like a bright spot amidst a global tunnel of darkness.
What did PM says Ahead of Budget Session 2023?
"Amid the unstable global economic situation, India's budget will attempt to meet the hopes&aspirations of the common citizens, the ray of hope being seen by world glows brighter-for this, I firmly believe that Nirmala Sitharaman will make all efforts to meet those aspirations."

"In today's global situation, not only India's but the whole world's attention is on India's budget."

"The Finance Minister of our country is also a woman, she is coming in front of the country tomorrow with another budget," said Modi.

"This budget will also be a bright spot for the shaky global economy. I am sure Nirmala (Sitharaman) ji will live up to all expectations," the PM said.
Economic Survey 2021-22 Highlights
While we are just a few minutes away from Economic Survey 2022-23, here are the highlights of Economic Survey 2021-22 in Parliament!
India became the 3rd largest start-up ecosystem in the world after the US and China. Number of new recognized start-ups increased to over 14000 in 2021-22 from 733 in 2016-17.
44 Indian start-ups have achieved unicorn status in 2021 taking the overall tally of unicorns to 83, most of which are in the services sector.
During the first half of 2021-22, service sector received over US$ 16.7 billion FDI – accounting for almost 54 percent of total FDI inflows into India.
GDP projected to grow by 8- 8.5 percent in real terms in 2022-23.  
Agriculture and allied sectors are expected to grow by 3.9 percent; industry by 11.8 percent and services sector by 8.2 percent in 2021-22.
Macroeconomic stability indicators suggest that the Indian Economy is well placed to take on the challenges of 2022-23.
Combination of high foreign exchange reserves, sustained foreign direct investment, and rising export earnings will provide an adequate buffer against possible global liquidity tapering in 2022-23.
Economic impact of the "second wave" was much smaller than that during the full lockdown phase in 2020-21, though the health impact was more severe.
Developing…