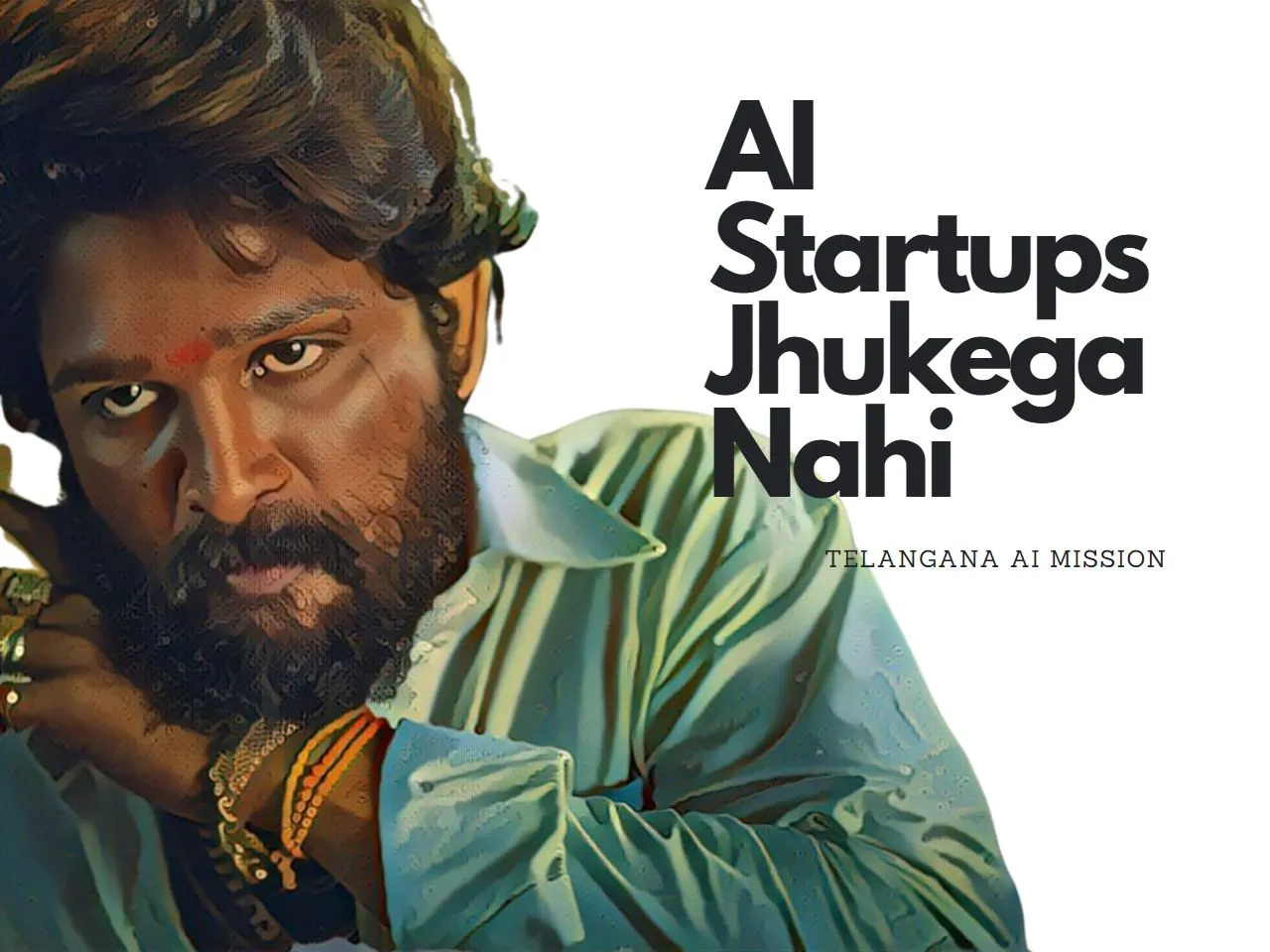 Have you caught a glimpse of the new teaser for Pushpa-2? This Telugu blockbuster is back with its second installment to enthrall audiences with its gripping action thriller, poised to challenge human intelligence. Fresh off the heels of winning an Oscar for the RRR song 'Naatu-Naatu', the Telangana spirit is soaring, determined to make the world groove to its tunes. With a reputation for producing blockbuster movies and pushing the boundaries of human intelligence, the state is now gearing up to take on artificial intelligence with bold initiatives, capturing the imagination of countless Startup entrepreneurs to innovate in the AI space. Just like Pushpa, who never bows down, the Telangana Startup Mission echoes the sentiment - Startup Jhukega Nahi!
What is Telangana famous for? 
Telangana is famous worldwide for its amazing Bronze castings that require exquisite skills for creating incredible idols, and its delicious food items like Mutton Biryani, Sarva Pindi, Khubani ka Meetha, etc. The recent addition to the list is the Oscar, which was grabbed by RRR's song Naatu Naatu.
However, in the coming days, Telangana will soon be a breeding ground for startups working around artificial intelligence (AI), especially after the success of ChatGPT. It is making great strides in Artificial Intelligence (AI), particularly in supporting AI startups through the Telangana AI Mission (T-AIM).
What is the Telangana AI MIssion? 
Get ready to witness a ground-breaking initiative that will put Telangana on the global map of Artificial Intelligence! The Government of Telangana, in collaboration with NASSCOM, has set up the Telangana Artificial Intelligence Mission (T-AIM) under the "2020: Year of AI" initiative. This visionary mission aims to create a collaborative AI ecosystem that will revolutionize the industry and society. Brace yourselves to witness Telangana emerging as a global hub for AI, bringing forth an era of unparalleled technological advancements. 
With a vision to be the leader in emerging technologies, Telangana has introduced numerous initiatives that will leave you spellbound. The government has taken the plunge and created a dedicated vertical for emerging technologies that will develop the ecosystem required for the industry and enable government departments to adopt these revolutionary technologies. Brace yourself as the government is all set to revolutionize the way things work with its focus on 8 key emerging technologies including Blockchain, AI, IoT, Cloud, 3D Printing, VR/AR, Robotics, and Big Data. The impact of these technologies will be felt by both the government and businesses alike. Exciting times are ahead for Telangana. 
Who Are The Partners For Telangana AI MIssion? 
In exciting news, the Telangana AI Mission (T-AIM) has announced two new partnerships that will provide affordable access to high-performance AI computing for 142 AI startups through its accelerator program called Revv Up. These partnerships with the Centre for Development of Advanced Computing (C-DAC) and the Indian Institute of Technology Hyderabad (IIT-H) will allow startups to access India's largest and fastest AI scalable supercomputing infrastructure at a significantly lower cost than private cloud infrastructure providers. This news is particularly important given recent reports that the cost of training large models is expected to rise five-fold by 2030. So, if you're looking for an opportunity to be at the forefront of AI innovation while reducing your startup costs, it's time to take a closer look at the world of AI startups. 
How will Startups benefit from Telangana's AI Mission?
Revv Up startups are about to hit the big leagues with a game-changing partnership. The MoU signed with C-DAC is nothing short of a jackpot! It will provide them with India's largest and fastest AI scalable supercomputing infrastructure with 410 AI Petaflops, that too, free of cost for a certain period. That's right! No hidden charges, no strings attached, just pure awesomeness. And guess what? The cherry on top is that it translates to Rs 10 crores in economic value created for T-AIM startups. But that's not all, folks. After the free period, they can still avail of the facilities at rates that are a third lower than those offered by private cloud infrastructure providers. If that doesn't make your head spin, then hold on tight because there's more. The MoU signed with IIT-H offers PARAM SEVA computing infrastructure of 833 teraflops, built by C-DAC under the aegis of NSM, at discounted rates for Revv Up startups. This is no ordinary deal, my friends. Citing a recent report by OpenAI, it is a big win for startups, as the cost of training large models is expected to rise five-fold by 2030. So, get ready to rev up your engines and take your startup to the next level with this amazing partnership.n
Startup Ecosystem at IIT-Hyderabad 
IIT Hyderabad, with its dynamic and vibrant ecosystem, is a breeding ground for the most innovative and revolutionary ideas that are just waiting to be actualized. With a plethora of formal and informal centers, this hub of creativity guides its students through every stage of business, from the germination of an idea to the maturity of a full-fledged enterprise. And that's not all! The various research labs and centers at IIT Hyderabad foster a culture of innovation that's hard to beat.
And if that isn't enough to pique your interest, then check out iTIC Incubator - the crown jewel of IIT Hyderabad's entrepreneurial ecosystem. This incubator is dedicated to supporting deep tech startups from the idea stage to the growth stage, providing structured pre-incubation, incubation, and accelerator programs that are tailored to each startup's needs. Get ready to witness the magic of entrepreneurship unfold right before your eyes at IIT Hyderabad!
In conclusion, the Telangana AI Mission is making great strides in supporting AI startups similar to how the Telugu cinema is being the flag bearer of Indian cinema across the globe.