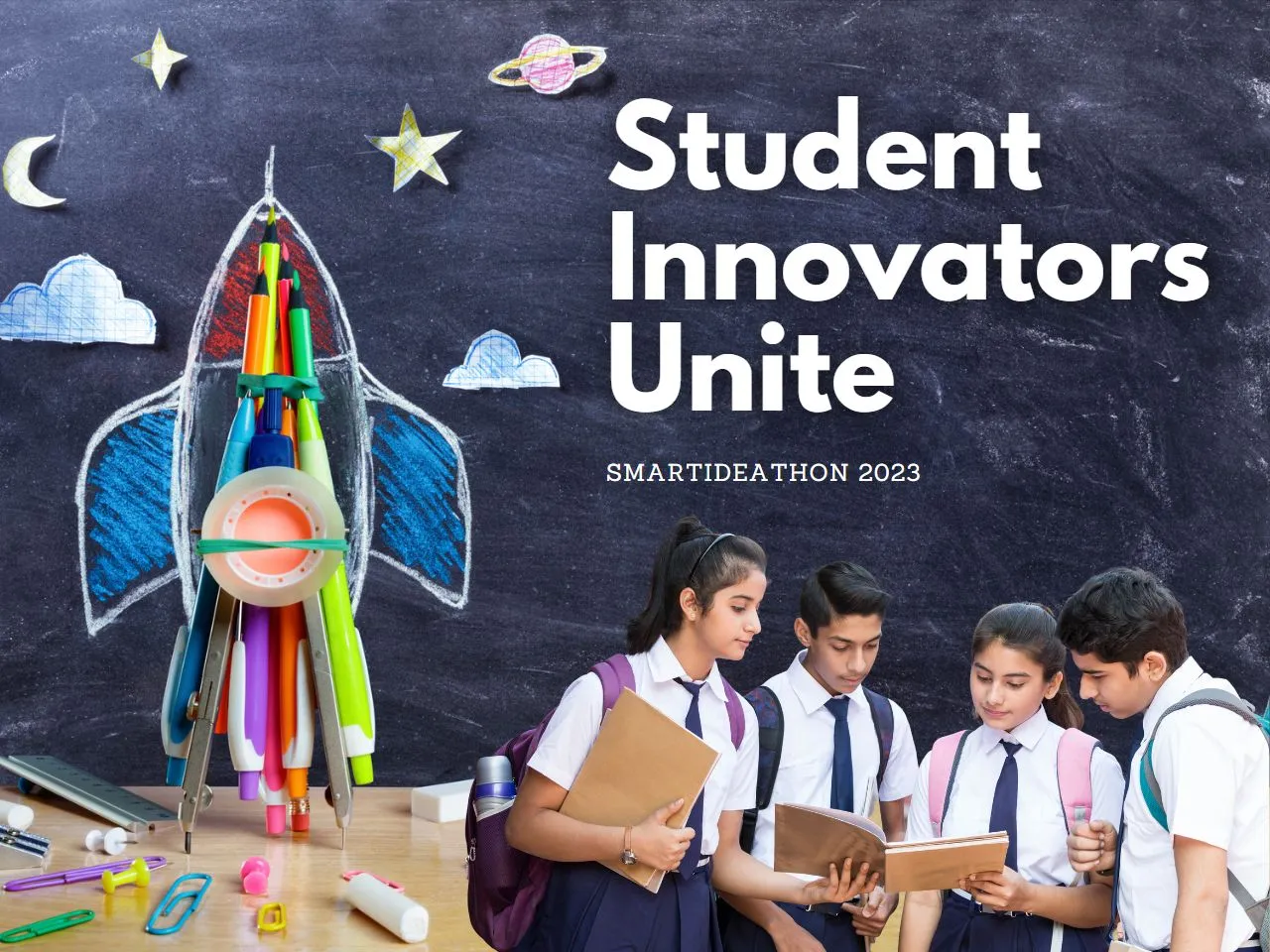 If you are a student with startup ideas focused on creating sustainable and resilient communities and seeking a platform to showcase your innovation, SmartIDEAthon 2023 is the ideal opportunity for you.
In today's fast-paced world, innovation plays a crucial role in driving progress and creating a sustainable future. SmartIDEAthon 2023, a student pitching competition, aims to harness the creative potential of college students across the country to tackle pressing challenges and develop innovative solutions. 
What is SmartIDEAthon 2023? 
SmartIDEAthon is an annual student pitching competition organized by Venture Development Centre, GITAM, in collaboration with StartupIndia, Northeastern University Center for Emerging Markets, Boston, and Northeastern University Center for Entrepreneurship Education (NUCEE), Boston. This competition aims to foster sustainable and resilient communities by focusing on themes relevant to our nation. SmartIDEAthon provides a platform for college students at the undergraduate and postgraduate levels from all over the country to showcase their venture ideas. Since 2022, GITAM has partnered with StartupIndia and the Northeastern University centers, resulting in over 1200 applications from various Indian states. The competition offers cash and grant prizes worth up to 30 Lakhs to support the winners in realizing their innovative ventures.
What are the incentives offered by SmartIDEAthon for participants? 
SmartIDEAthon 2023 offers a range of incentives to motivate and reward the participants for their innovative ideas and solutions. These incentives serve as a catalyst for driving impactful change and fostering an entrepreneurial mindset. Let's take a closer look at the incentives awaiting the participants:
Fiscal Incentives: With a total of INR 4,50,000 in cash prizes up for grabs across various categories, participants have the opportunity to secure financial support for their ventures.
Non-Fiscal Incentives: Finalists will receive an invaluable opportunity to enhance their entrepreneurial skills through the IDEA venture development coaching program offered by the NorthEastern University Center for Entrepreneurship Education (NUCEE). This year-long program, worth INR 3,00,000, provides expert guidance and mentorship to refine and shape their business ideas.
Additionally, participants will receive INR 1,00,000 worth of cloud credits and goodies to further support their entrepreneurial journey.
The winners of SmartIDEAthon 2023 will enjoy exclusive benefits. The champion team, comprising the founder and co-founder, will embark on a fully sponsored two-week trip to Boston worth INR 6,00,000. This trip encompasses visa fees, roundtrip economy airfare, accommodation, food, and local transportation, offering a unique opportunity to explore the vibrant startup ecosystem of Boston.
The runner-up team will also have the chance to visit Boston, albeit with partial sponsorship worth INR 3,00,000. This trip covers visa fees, food, accommodation, and local transportation.
In addition to the overall winners, SmartIDEAthon 2023 recognizes exceptional achievements in specific categories. The Best Woman-led Entrepreneurship Idea and the Leben Johnson People's Choice Award aim to empower women entrepreneurs and acknowledge the idea that resonates most with the audience, respectively.
What are the Problem Statements & Themes for Challenges? 
SmartIDEAthon 2023 revolves around four key problem statements, each representing a crucial area where innovation and sustainable solutions are urgently needed. Let's explore these problem statements and the challenges they aim to tackle:
Food & Health: Lifestyle-based diseases have witnessed a dramatic surge in recent times. To combat this trend, SmartIDEAthon 2023 encourages participants to focus on developing ideas related to healthy diets, alternatives to rice, gluten, and meat, and solutions for addressing obesity, malnutrition, and other occupational hazards.
Toys for S.T.E.M: The field of Science, Technology, Engineering, and Math (S.T.E.M) education plays a vital role in shaping the future. SmartIDEAthon 2023 challenges participants to create toys that can impart educational skills in a fun and interactive manner, catering to regular education and special needs. These toys should incorporate elements of technology, experimentation, and interactive learning to engage and educate children.
Sustainable Fashion: The fashion industry is known for its significant environmental impact, contributing to greenhouse gas emissions, global wastewater, and excessive energy consumption. SmartIDEAthon 2023 invites participants to develop ideas focused on sustainable fashion, including the creation of zero-waste raw materials, recycling fashion items, and establishing efficient disposal processes, thereby promoting a more sustainable and eco-friendly industry.
Frugal Innovation: The scarcity of resources in our country necessitates the need for frugal innovation – doing more with less. SmartIDEAthon 2023 encourages participants to think creatively and develop frugal innovations in sectors such as agriculture, education, transportation, water and sanitation, waste management, and more. These innovations should aim to create affordable, sustainable, and impactful solutions for the masses.
What are the Eligibility Criteria to participate in SmartIDEAthon 2023? 
To participate in SmartIDEAthon 2023, it is essential to meet the eligibility criteria set forth by the organizers. The following criteria apply:
The competition is open to current undergraduate and postgraduate students enrolled in full-time courses at recognized universities. Graduating students in 2023 or later are also eligible to participate.
Only Indian citizens studying in India are eligible for SmartIDEAthon 2023.
Teams at the advanced ideation, prototype, or research stage are eligible to participate.
Only founders or co-founders of the ventures are eligible to apply and represent their teams in SmartIDEAthon 2023.
Both the founder and co-founder must adhere to the first eligibility criterion mentioned above.
During the application process, students must submit their bonafide certificates and a valid photo-based student identification card (ID card).
In case of any suspicion regarding the candidature, the SmartIDEAthon 2023 team reserves the right to request additional documents for verification purposes.
If all team members belong to the same institute, a joint letter will be acceptable.
What are the Important Dates to Remember in regard to SmartIDEAthon 2023? 
SmartIDEAthon 2023 follows a structured timeline, ensuring a fair and competitive environment for all participants. Here are the key dates to keep in mind:
Call for ideas: 17th May 2023
Idea Submission Deadline: 10th June 2023
First Round Selection of ideas: 22nd June 2023
First Bootcamp for selected ideas: 2nd July 2023
Submission of Updated Pitch Decks by selected ideas: 8th July 2023
Second Round Selection of ideas (Semi-Finalists): 15th July 2023
Advanced Bootcamp for second-round selected ideas: 22nd July 2023
Final submission of Pitch: 24th July 2023
Semi-Finals: 24th August 2023 (Offline event at GITAM Hyderabad)
Grand Finale: 25th August 2023 (Offline event at GITAM Hyderabad)
How to apply for SmartIDEAthon 2023?
Students of undergraduate or postgraduate programs who are enrolled in Full Time courses in recognized universities can apply for the SmartIDEAthon 2023 by clicking here. 
What is the last date to apply for SmartIDEAthon 2023?
The last date to apply for the  SmartIDEAthon 2023 is June 22, 2023. 
SmartIDEAthon 2023 provides an exciting platform for aspiring student entrepreneurs to showcase their talents, develop innovative solutions, and contribute to building sustainable and resilient communities. By addressing critical challenges in various sectors, participants have the opportunity to make a lasting impact and emerge as champions of change. Join the SmartIDEAthon 2023 journey and be part of a thriving ecosystem that nurtures innovation and entrepreneurship.