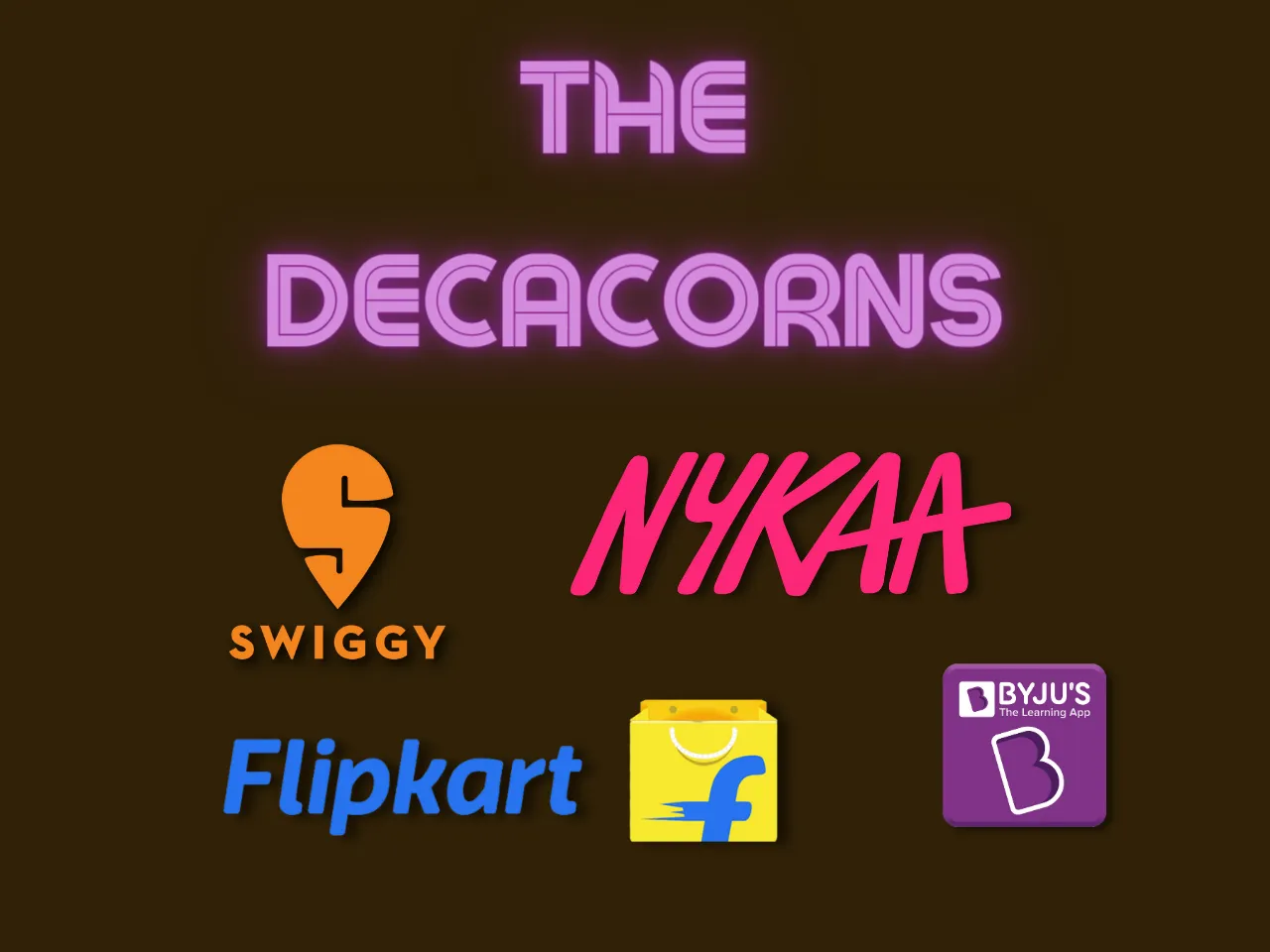 We all have heard about the ubiquitous term 'unicorn' but do you know what a – decacorn -  startup is? For a hint, it is every startup's dream to turn into one. 
Well! While the commonly used term in the venture capital industry, unicorn, stands for privately-held startups with a valuation of over $1 billion. Decacorn, however, refers to the select few that exceed the valuation of a whopping $10 billion.
Unicorns and Decacorns In India
India is now the 3rd largest ecosystem for startups globally! The Commerce Ministry's DPIIT has recognized over 80,000 startups across 656 Indian districts of the country. 
Indian startups are present across 56 diverse industrial sectors including 13% in IT services, 9% in healthcare startups, 7% in education, 5% in professional and commercial services, 5% in agriculture, 5% in food and beverages and so on. 
The total number of unicorns in the country has already exceeded the century mark. As of 07 September 2022, India is a home to as many as 107 unicorns with a total valuation of $340.79 billion. 
Coming to decacorn startups, there are 46 of them in the world, among them Facebook in 2007 became the first decacorn in the world crossing the $10 billion valuation after an investment round of $240 million led by Microsoft. 
Some other decacorns in the world are SpaceX, Stripe, goPuff, Instacart, Fanatics, Grammarly, Bolt, BYJU's, Canva and so on. All names you cannot miss in our post-modern world.  
Presently, India has four of these giants: Flipkart, BYJU's, Nykaa and Swiggy, according to InvestIndia. Of course, more are on their way. 
Here's a look at the 4 Indian start-ups that belong to elite the decacorn category!
Swiggy
Founded in 2014, the food-delivery giant Swiggy emerged as a decacorn startup in early 2022 by raising $700 million in Invesco-led funding round which doubled Swiggy's valuation to $10.7 billion. Swiggy made it to the decacorn list following a two-year long pandemic which surged the demand for home delivery of food and grocery.
While the food-delivery service of Swiggy has always been in high demand, it launched grocery delivery service - Swiggy Instamart, in August 2020 when the whole world was under lockdown. Turning the COVID-19 crisis into an opportunity, Swiggy made meaningful investments to become a decacorn startup.  
BYJU's
The edtech giant BYJU's earned the much-coveted decacorn status in 2020 following a funding round from Mary Meeker's Bond Capital. BYJU's received a $100 million investment amount in the Mare Meeker funding round which increased its total valuation to $10.5 billion. In November 2022, BYJU's also roped in the international football star Lionel Messi as its global brand ambassador. It was also in the news for layoffs that it effected.
 
Nykaa
Nykaa entered the decacorn club after launching its IPO in October 2021. The cosmetic-to-fashion brand made a blockbuster entry in the stock market.  
Shares of Nykaa's owner company FSN e-commerce soared 89.2% to Rs 2,129 after opening at Rs 2,018 in pre-open trade. While it debuted at 79.4% premium to IPO price of Rs 1,125, earning it a decacorn status with a valuation of Rs 95,437 crore ($12.86 billion).
Flipkart
The Indian e-commerce platform, which is now acquired by Walmart, became a decacorn back in 2014-15. As of July 2021, Flipkart registered a valuation of at $37.6 billion after a hefty round of funding. 
So far, Flipkart has raised a total of $12.9 billion in funding over 26 rounds. Their latest funding was raised in June, 2022 from a Venture - Series Unknown round.