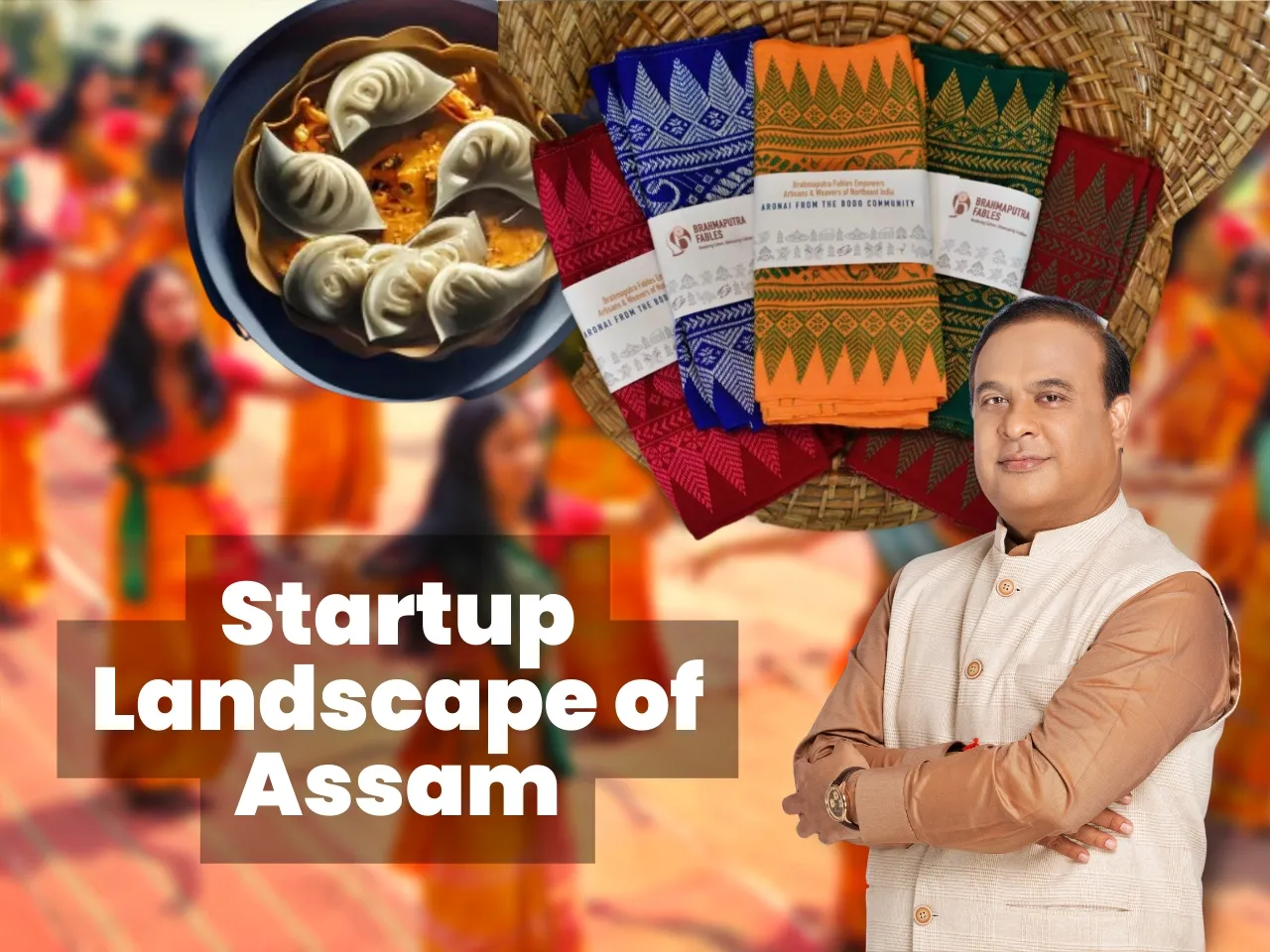 Nestled in the heart of the northeast, the state of Assam is one where cultures intersect and traditions collide, creating a melting pot of diversity and creativity. Interestingly, the North-Eastern state is fast becoming equally popular for its innovative entrepreneurial ventures.
And befittingly, these reflect the diversity and innovation of the state that won the title - Emerging Startup Ecosystem - in States' Startup Rankings. 
At the focus of all this churning is the mighty Brahmaputra river. While the river serves as a lifeline for the people of Assam, the innovative minds serve hundreds of job opportunities to the locals. 
Startup Assam
Startup Assam's vision is to forge a path for entrepreneurs to connect with the resources they need to succeed. They aim to create a platform that connects entrepreneurs with angels and venture capitalists, mentors, and industry experts, building a problem-solving ecosystem where startups can thrive and grow. By providing easy access to the resources they need to evolve and co-exist, Startup Assam is helping to build a brighter future for the people of Assam and beyond. Presently, the state is a home to 139 recognized startups and a total of 255 startups have been incubated by the Assam government. 
TICE looks at some of the Remarkable Startups that are fast emerging from Assam: 
Sprengal Food Technology
In the bustling streets of Guwahati, a city renowned for its love of delicious momos, the standards of hygiene and consistency in taste have often fallen short. Recognizing the need for improvement, Sprengal Food Technologies stepped up to the challenge and established an FSSAI regulated central kitchen to provide high quality, affordable food items to hotels, restaurants, cafeterias, and other outlets.
With their own brand, "Darjeeling Momos," the startup has already opened five successful outlets in Guwahati, with four more on the way. To date, they have sold over three million momos, with daily sales reaching 3000. In the fiscal year 2021-2022, they saw a revenue of 27 Lakhs and are striving for even greater success, with a goal of selling 20,000 momos per day and expanding to other towns in the North East region of India. 
As they continue to grow and diversify their offerings, Sprengal Food Technologies is leading the charge for improved food quality and standards in the region.
CARE North East Environmental Services
As a Water, Sanitation, and Waste Management Expert in Switzerland, Sanjay K Gupta was troubled by the lack of scientific waste management in his home state of Assam. Determined to make a change, he left his job in Switzerland and returned home to establish the NGO CARE North East Foundation in 2018. Two years later, he founded the startup CARE North East Environmental Services to provide 360° waste management solutions to municipal bodies and other organizations in the state.
"I found that there is no end-to-end solution to waste sector issues in Assam," Sanjay says. "And also, there is no capacity among municipalities to deal with various types of waste." To address these issues, the startup has trained a team of professionals from underprivileged backgrounds to create a seamless waste collection, composting, and recycling process.
Currently operating in Nagaon, CARE North East Environmental Services has projects in the pipeline in Kokrajhar, Jorhat, and Nalbari. Despite being a relatively new company, it has already gained significant traction, providing services to over 38,000 establishments and serving a population of over 400,000.
Dawai Lo
Dawai Lo is another startup from Assam which has shaken up the healthcare industry. Dawai Lo, an online platform that provided door-to-door delivery of medicines, was founded by Pankaj Maheshwari and Abhimanyu Modi in 2016. Despite facing fierce competition in the crowded and complex online medicine delivery sector, Dawai Lo was making a name for itself as a reliable and innovative player.
Dawai Lo was more than just a simple delivery service. It provided a range of services designed to make the process of ordering and receiving medicine as convenient and hassle-free as possible. From proper filing of client details to a telephonic reminder system, Dawai Lo left no stone unturned in its quest to provide the best possible service.
But Dawai Lo didn't stop there. The company also offered strict prescription-based orders, proper invoicing, and even discounts on medicines to its customers. It was this attention to detail and commitment to customer satisfaction that set Dawai Lo apart from the competition.
As Dawai Lo continued to grow and thrive, it became clear that this startup was revolutionizing the way people accessed healthcare in Assam. And with its dedicated team of professionals leading the way, there was no telling how far they could go.
Brahmaputra Fables
In the heart of the rural village of Sarthebari, located in the Barpeta district of Assam, a new startup was taking shape in 2017. Brahmaputra Fables, an online shopping portal devoted to bringing the authentic traditional products of Assam to the world, was founded by the visionary entrepreneur Dhruba Jyoti Deka.
Determined to showcase the rich cultural heritage of his homeland, Deka set out to create a platform that would allow people all over the world to experience the beauty and craftsmanship of Assam's brass and bell metal handicrafts. And so, with a small team of devoted individuals by his side, he launched Brahmaputra Fables.
At first, the road was rough. Deka and his team faced numerous challenges as they worked to establish their brand and build a customer base. But they were undaunted, driven by their passion for their craft and their love of their homeland.
As the years passed, their hard work paid off. Brahmaputra Fables began to thrive, attracting a loyal following of customers from all corners of the globe. And as the company continued to grow and expand, it became clear that Deka's dream of bringing the traditional products of Assam to the world had become a reality.
Steady But Significant Growth
The startup movement in Assam may have started late, but it has made up for lost time with incredible speed. In just the last one and a half years, it has exploded onto the scene, generating hope and opening new income opportunities for the youth of the region.
One such startup that has seen tremendous success is ParkingRhino, a platform that connects available parking spots to drivers through a mobile or web application. This innovative venture empowers commuters with real-time parking information, allowing them to pre-book spaces in advance, navigate to the spaces using maps, and make digital payments.

With partnerships in eight Indian cities and 240 locations in the Philippines, ParkingRhino has access to over 228,000 parking spaces. And the company's reach doesn't stop there – it has also made its way into Qatar, Saudi Arabia, and Indonesia.
To top it off, ParkingRhino has even managed to secure funding, raising over 2.85 crore rupees from the Northeast Venture Fund. It's no wonder that this startup has become a shining example of the progress and potential of the Assam startup scene.
The Nest
ParkingRhino is just one of the many startups nurtured by "Assam Startup - The Nest," an incubation hub in Guwahati established by the Department of Industry and Commerce of the State Government in partnership with IIM Calcutta Innovation Park. Since its inauguration on January 20, 2019, The Nest has incubated a staggering 76 startups, giving direct employment to 1,690 people and impacting over 3.2 lakh lives.
This impressive list of startups includes ventures such as Automobile Technologies, a car and bike service aggregator; Bolkol, an online platform for Indian handloom products; Brahmaputra Fables, a digital platform connecting around 2,500 artisans and weavers of the Northeast with the global market; Defence & Space Robotics Laboratories; Esah Tea; Let's Learn Together; Little Machines; My 3D Selfie; Zerund Bricks; Tholua Pratisthan; Symbica; Sahoni Agro Services; and Aranyak Valley, among others.
The success of these startups is a testament to the hard work and dedication of The Nest and its incubated ventures, and it is clear that the future of the Assam startup scene is bright.
Reaching Every Nook & Corner of Assam
While the startup movement in other parts of the country tends to be concentrated in major cities, "Assam Startup - The Nest" has managed to reach every corner of the state with its incubated ventures. These startups have made a significant impact by utilizing and promoting local culture, places, and artistry, solving local problems and engaging the local community in the process. It is evident in the names of the startups themselves, which reflect their deep connections to the region and its people.
Through these ventures, "The Nest" has not only opened employment avenues for the people of Assam, but it has also given them the opportunity to take control of their own future and shape their own destiny. It is a powerful and inspiring force, and one that will continue to drive the growth and success of the Assam startup scene for years to come.