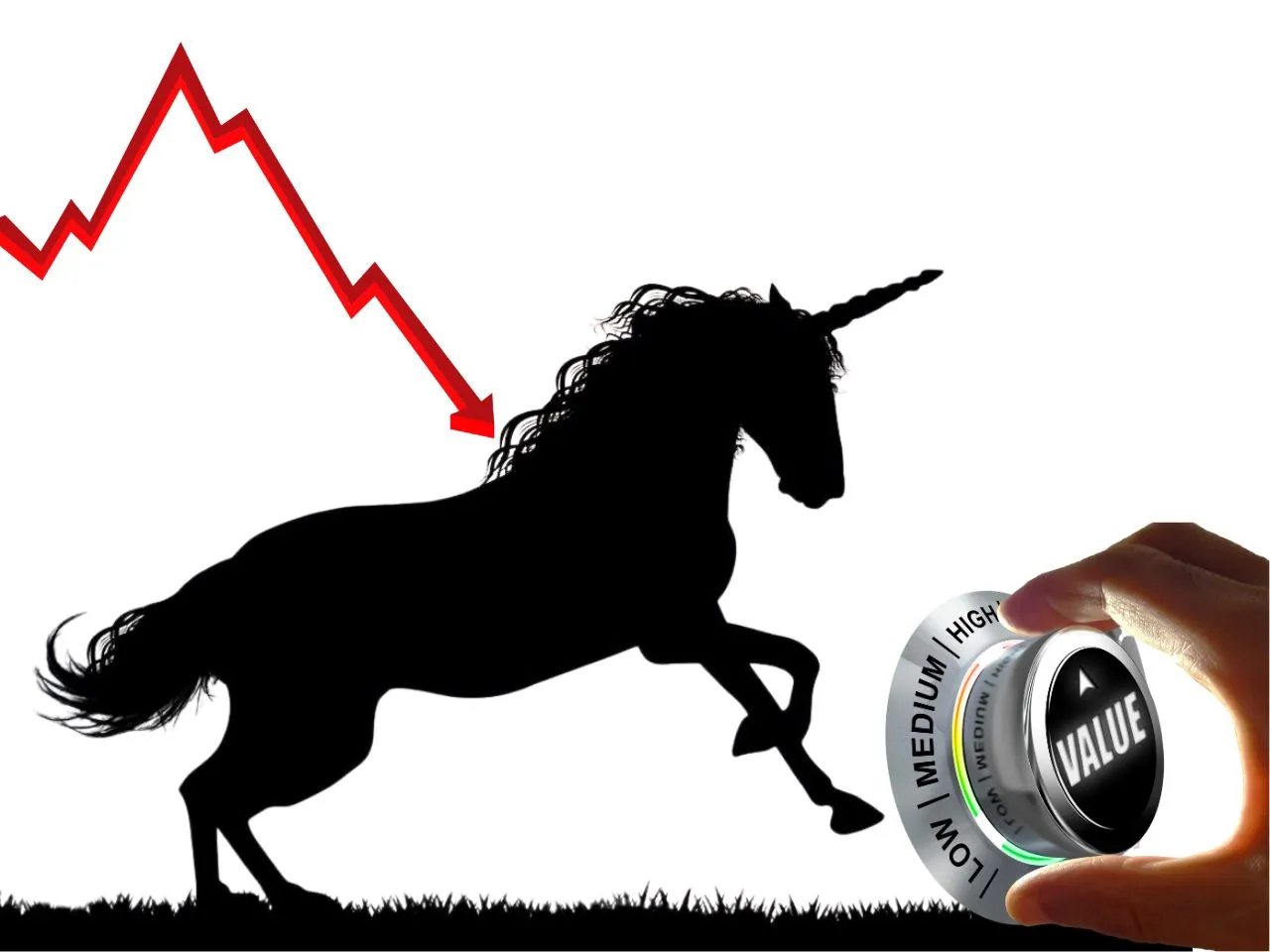 Recent time has been tough for the high-profile Indian unicorns. The global asset managers have reduced the valuations of many popular startups like Byju's, Swiggy, Pharmeasy and joining the list today was edtech unicorn Eruditus. 
The Indian startups witnessed a boom in 2021 and early 2022, which saw creation of 60 Unicorns valued at over USD 1 billion. In late 2022, the startups witnessed funding winters followed by massive layoffs and valuation markdown in 2023.
One of the concerns that the downgrades raise is about potential down rounds, where companies secure financing at lower valuations than previous rounds.
Eruditus Joins the List of Valuation Markdowns
Adding to the list of Indian unicorns facing valuation markdowns is Eruditus, an edtech company. Eruditus now joins the likes of Swiggy, BYJU'S, and PharmEasy, which have also experienced recent valuation reductions. The Private Shares Fund, a U.S.-based investor focused on late-stage venture capital-backed startups, has lowered the fair value of Eruditus by 9% in the March quarter. The fund holds a 0.2 percent stake in Eruditus through a Special Purpose Vehicle (SPV) of one of the edtech's venture capital and private equity investors.
The Private Shares Fund currently values its 36,264 shares in Eruditus at $4.66 million, resulting in an overall valuation of the edtech at $2.9 billion. This markdown reflects a significant drop from its previous valuation of $3.2 billion. Notably, the fund had not adjusted the fair value of Eruditus as of December 31, 2022, according to regulatory filings.
Global Asset Managers Reduce Valuations
Recently the US -based asset management firms have slashed valuations of Indian startups amid declining valuations of technology companies worldwide. Swiggy, Ola, Pine Labs, and PharmEasy are among the Indian startups that have witnessed their fair values being slashed by US-based asset management companies. Even Blackrock, the world's largest asset management company, has halved the fair value of Byju's, which is one of the most valued edtech firm globally.
Mr. Vikram Ramasubramanian, Partner, Inflection Point Ventures, told TICE News, "Investors have recently re-evaluated the valuations of prominent Indian Unicorns like Swiggy, Pine Labs, Pharmeasy, Oyo, Byjus, and Ola, raising concerns about the startup ecosystem's health and credibility. The global economic climate has significantly impacted startups worldwide, including those in India.

In 2021, when capital flowed freely, startups easily obtained high valuations, even in cases where profitability was lacking. Consumer-facing unicorns such as Pharmeasy, Byju's, and Swiggy rode the wave of the Covid boom, leading to skyrocketing valuations. However, as 2022 unfolded, the headiness of the previous year began to fade. Geopolitical tensions and macroeconomic pressures caused a reduction in funds and increased investor focus on profitability and cash conservation."
Which Are The Other Asset Managers That Have Cut Valuations Recently?
Recent filings with the U.S. Securities and Exchange Commission revealed that Invesco and BlackRock had cut their valuations of Byju's from USD 22 billion to USD 11.5 billion and of Swiggy from USD 10.7 billion to USD 5.5 billion, respectively. 
Vanguard had reduced the valuation of ride-hailing startup Ola by about 35% to USD 4.8 billion, and Neuberger Berman reduced the valuation of financial services startup Pine Labs by 40% to USD 3.1 billion. Janus Henderson had also halved the valuation of health care startup PharmEasy to USD 2.8 billion.
What Are The Challenges In Front of Indian Startups?
These markdowns compound the challenges faced by Indian startups, many of which have implemented layoffs, reduced marketing spending, and scaled back consumer discounts to preserve capital. The decline in valuations reflects a shift in investor sentiment and a need for startups to prioritize profitability and efficiency.
Mr Vikram Ramasubramanian believes that, "One significant issue is the emphasis on valuations rather than value addition. The previous surge in valuations for unicorns was driven by the pursuit of scale, innovation, and rapid expansion, often at the expense of solid unit economics. Some startups focused on becoming unicorns through astronomical valuations, even if their financials remained in the red. This approach disregarded fundamental business principles and profitability, creating an unsustainable bubble. The ecosystem witnessed a rush to achieve high valuations, neglecting the importance of building a strong foundation. Consequently, several unicorns like Hike, Quikr, Shopclues, Snapdeal, Blinkit, and Paytm Mall lost their unicorn status."

The decline in valuations for startups, including Unicorns, stems from market corrections, increased scrutiny, economic conditions, and performance metrics. This shift reflects a more prudent approach by investors, promoting sustainable business models within the startup ecosystem. While declining valuations raise questions about startup credibility, they do not represent a blanket indictment of the entire ecosystem. Startups with strong fundamentals and viable business models will continue to drive innovation, attract investment, and ensure the long-term vitality of the startup ecosystem," he opines.
During the funding boom, startups invested heavily in marketing, sponsoring major sports events and indulging in high-profile partnerships. 
However, as funding prospects diminish, startups are now forced to cut down their marketing expense, resort to large scale job layoffs and reduce discounts, which may impact their ability to attract new consumers. 
As Indian startups navigate this challenging environment, they must focus on building sustainable business models, improving operational efficiency, and regaining investor confidence. By addressing these issues and adapting to market dynamics, Indian unicorns can work towards securing a more promising future in the global.