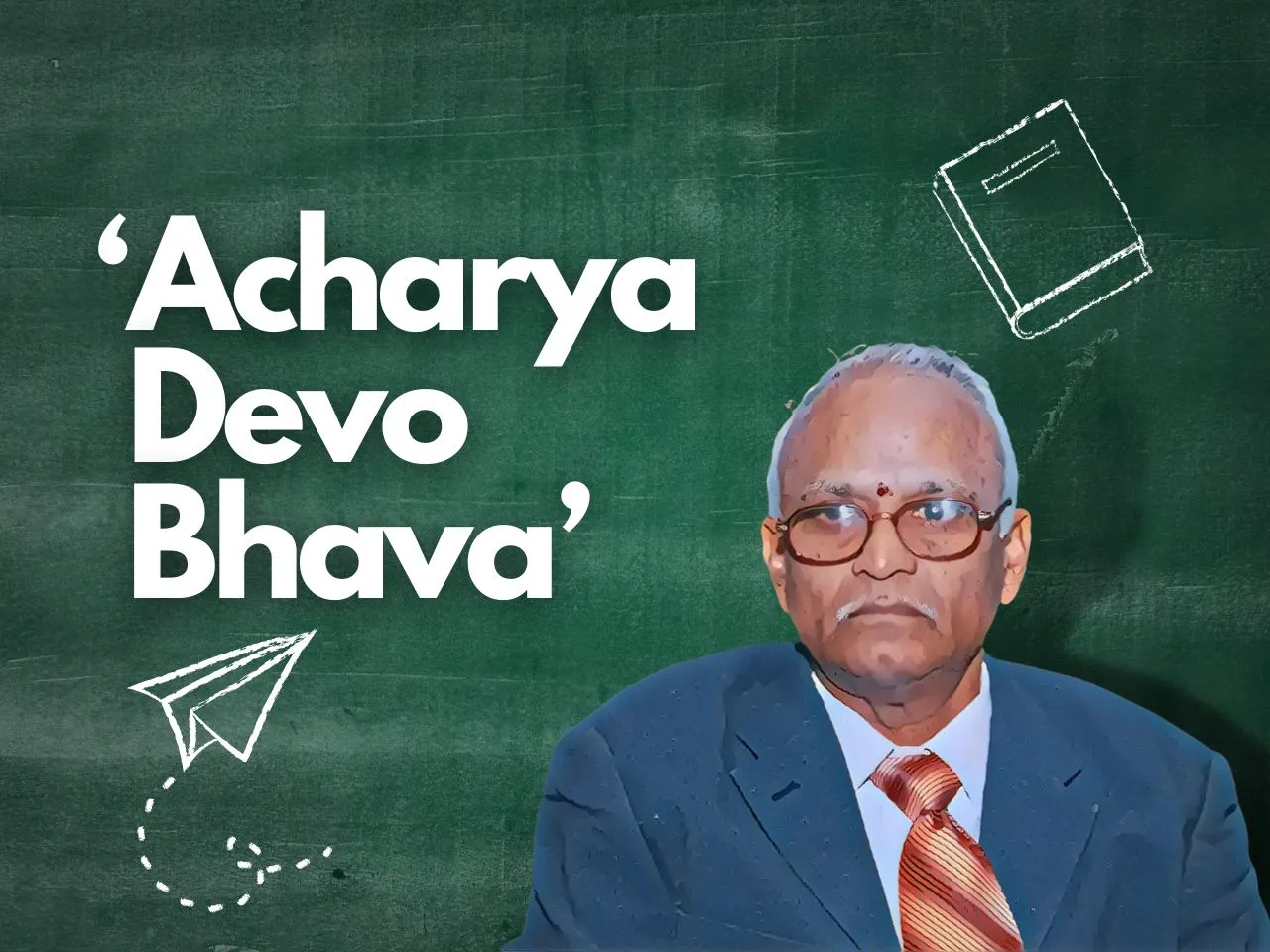 'Acharya Devo Bhava'.  "Guru Brahma Guru: Vishnu, Guru: Sak Shaath Parabrahma:". Parents are the first Gurus and I bow to them day-in and day-out and all life for, these Gurus took my hand, opened my mind, and remained in my heart.
During the childhood there were teachers who taught me alphabets and who did not spare their rod for being late to the school or for correcting a mistake! No complaints on the Child Rights for my parents told me that I had only responsibility and not right at that age, for the right to honourable life had to be earned the hard way.
K. Keshava Rao, my father's English Teacher taught me English Grammar - Wren & Martin was the Bible in front of me in my class IX at the Mc Lauren High School, Kakinada. Earlier was the most fortunate year when I had the privilege to learn Telugu language under Indraganti Hanumatsastry in class VIII. He made me win the District Debating Competition on the subject -- Voting Right for the Youth, Right or Wrong -- at the inter-school District Competition.
At Mrs. A. V. N. College, Visakhapatnam, where I studied Intermediate (1955-57) K. Swaminathan, Lecturer in English, Prof Diwakarla Rama Murthy, brother of Diwakarla Venkatavadhani (Osmania University fame), Ramhbhatla Lakshmi Narayana were my teachers in Telugu and how can I redeem my debt for introducing me the depth and charm of the language that has no barriers in the globe?
Moved to Tirupati for my graduation and post-graduation in Economics
Acharya Rayaprolu Subba Rao, Pingali Lakshmikantam, G.N. Reddy, Jeereddi Chenna Reddy taught me old poetry,  modern poetry, prose, and non-detailed text respectively, Prof. M. V. Rama Sarma, E. Nageswar, Mrs. M. Suryakanta, Lecturers in English, Prof. M.S. Prakasa Rao, who earned the title 'Laddu of Public Finance' in Pachiappa's College, Madras,   Prof. E. K. Warrier, Dr. S. Subbaramaiah, and B.N. Yugandhar (IAS latter), were all my teachers in my graduation and post-graduation at the Sri Venkateswara University College, Tirupati (1958-62) who made me what I am today.
Dr. C.S. Venkata Ratnam  and Prof V. Balamohan Das, of the Commerce Department guided me into PhD at Andhra University, Visakhapatnam, while I was at work. Prof. B. Sarveswara Rao, Prof. G. Parthasarathy (EPW fame), were my mentors.
The will to write became part of me because of all these teachers. When I close my eyes, I see their bright eyes, hear their voices, recall their corrections in my essays of the school and college days, the direction they gave me not just on the stage when I acted in a few plays - Galsworthy's Strife in College Days, and 'Pedda Manushulu' in Telugu on Vijayawada and Hyderabad theatres, but to my life.
My teacher Prakasa Rao insisted that whenever I write, I should keep in mind, whether I have a single message to convey couched in understandable language, a story that stays in the readers' minds for long. He always used to say; "Keep your flame burning" but not to burn you. Watch the word you say and it will save you. I am yet to become a great writer!
Not just today, I pray my teachers everyday to give me the energy and thought that enriches the society I live in. The warmth, the affection and the blessings all these teachers who made my life are eternal.
About Author: Dr. Yerram Raju is an economist and risk management specialist and author of The Story of Indian MSMEs – Despair to Dawn of Hope. Views are personal.