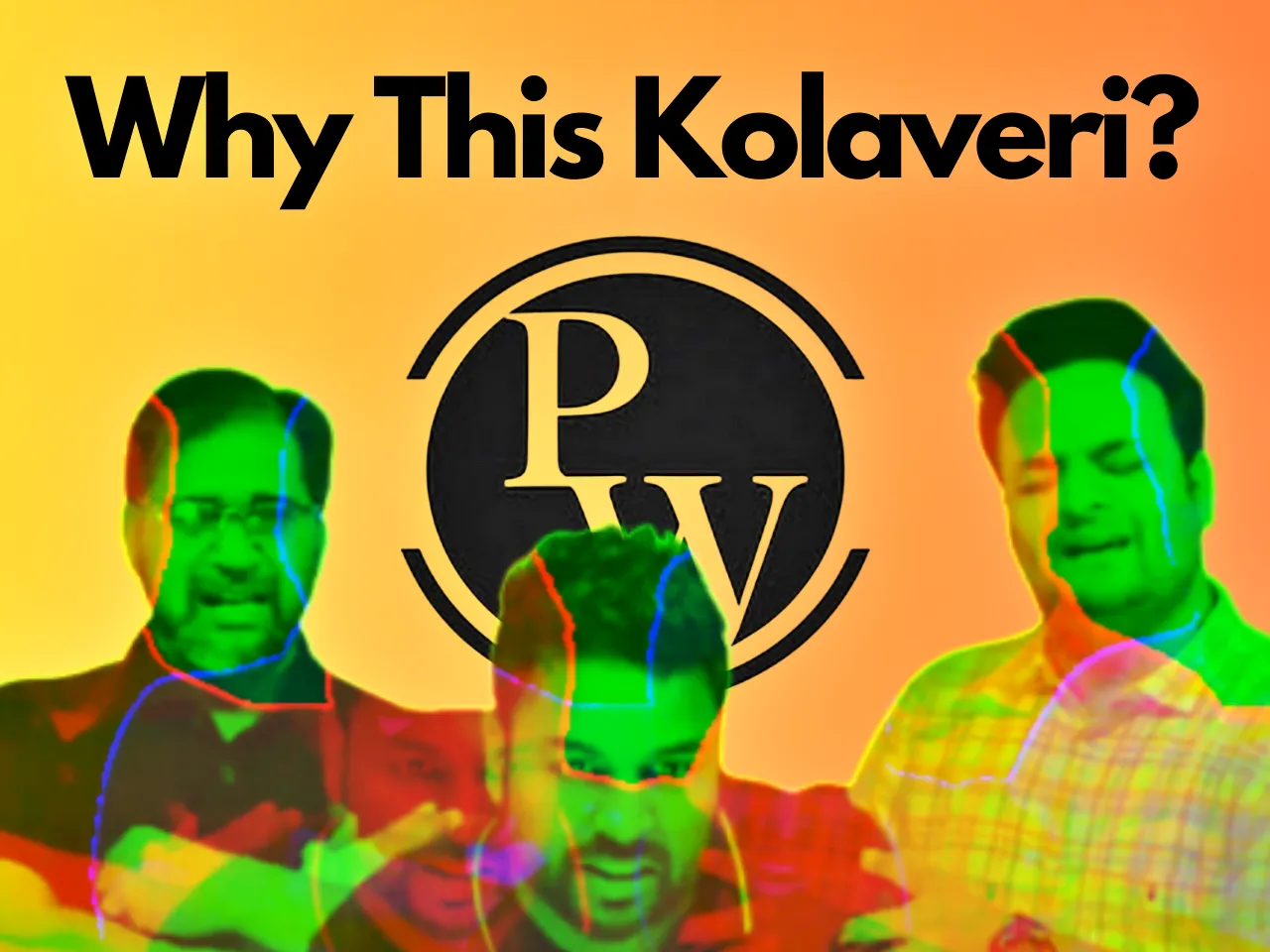 Physics Wallah-India's only unicorn edtech startup is currently in news for all the wrong reasons.  After winning accolades for making Rs 98.2 crore profit in FY 22 and becoming a household name after Amazon made a web series on it, online edu-platform Physics Wallah is now caught in controversy over online-brawl with its three ex-teachers over alleged poaching for coaching allegation.
Physics Wallah Vs Sankalp
Its Physics Wallah (PW) versus Sankalp Youtube Channel, a group started by three former teachers from Physics Wallah who resigned from the ed-tech platform last month and created an independent YouTube channel by the name, 'Sankalp'.
Teachers Tarun Kumar, Manish Dubey and Sarvesh Dixit, prominent teachers at the ed-tech platform resigned from PW on March alleging that latter no longer gives a conducive environment to the students to study and has disillusioned these teachers' visions.
Within a month, they created a new channel on Youtube getting massive support from the students who have studied from them in the past. 
Sankalp's YouTube channel already has 325K subscribers in less than a month of its creation.
How Did Physics Wallah Controversy Start?
Social Media is the battleground for the two online teaching big wigs after a recent video uploaded on Sankalp's YouTube channel by the ex-PW teachers has gone viral.  The video has garnered 2.1 million views in just a day.
What Is Physics Wallah Controversy?
Tarun Kumar was the first out of three teachers to resign. After resigning he made a video saying his vision with PW was to provide quality education to the remote areas of the country. 
Tarun said he and Alakh Pandey, PW's founder, along with a small team at PW, had been working tirelessly for the past three years to provide high-quality education to students in remote locations who couldn't afford it.
Tarun said that PW has made so much growth that it is not possible for Alakh Pandey to manage everything which disillusioned their vision.
Stating this reason, he announced leaving the giant company and taking his vision with the YouTube channel.
In the same series, Manish Dubey or MD also announced his separation with PW citing the same reason. His reason was similar to that of Tarun Kumar, he also added that PW students at offline centres were getting hopeless due to the system created by PW. 
He disclosed that in the past he had raised these issues multiple times with PW Founder but no action was taken on this regard.
He went on to say that Alakh Pandey might have adjusted himself with the new system.
The three teachers were also  accused by Physics Wallah for taking bribes worth Rs 3 crore from its rival ed-tech company Adda 247 for quitting the team and joining latter.
Tarun Kumar, Manish Dubey and Sarvesh Dixit alleged their ex-colleague at PW Pankaj Sijairya of spreading false rumours and targeting them. After achieving significant growth, the three individuals released a video discussing how PW's focus has shifted from offering affordable, quality education.
The three also claimed that Physics Wallah has made their lives difficult after they started their Youtube Channel.
Countering these allegations, one of the teachers said that their stock worth at PW will be around 25 crore in the next 4-5 years then why would they leave PW for the rival company.
In addition, they alleged that PhysicsWallah had attempted to take down their YouTube channel even though they had finished the course before leaving the platform.
The Latest Online Brawl Video
In a latest video released, Kumar, Dubey and Dixit were seen breaking down into tears and saying there has been an outpouring support for them on their YouTube channel. They were crying in the video claiming false allegations were being made against them, defaming them and trying to shut them but they hoped that they will stand till end because they are "honest and true".
The video garnered huge views as some of the users claimed that it is a 'staged' act and they are doing it to get popularity. Netizens also criticised the former teachers' decisions to speak in public deeming it distasteful.
These videos are also being circulated on the micro-blogging site, Twitter where users have made memes out of this controversy. It has gone viral on all social media platforms now.
Who Is Adda247?
Adda247, operated by Metis Eduventures Pvt. Ltd, offers live-video classes, on-demand video courses, mock tests, and books to help students prepare for government examinations. The company was founded in 2016 by Anil Nagar and Saurabh Bansal.
Who is the famous Physics Wallah? 
The ed-tech was founded by Alakh Pandey and Prateek Maheshwari in 2020 as a YouTube Channel. It is the 101st Unicorn company of India with a value of 8000 crore in rupees (USD 1.1 Billion).
PW app was designed for students aspiring to take the National Eligibility cum Entrance Exam and Joint Entrance Exam in 2020. In addition, Physics Wallah launched courses for School Prep, JEE, NEET, GATE, SSC, UPSC, PSC, NDA, CA Foundation, CA Intermediate, CSIR NET, IIT JAM, MBA, NEET PG, and CUET.
As of January 2023, the Physics Wallah app has been downloaded more than 10 million times. 
A web series was also made by on the life of famous physics teacher Alakh Pandey, its founder. Pandey is known for revolutionizing online learning, especially for science stream students, through a YouTube channel. Alakh became a hero figure for students for transforming a dreadful subject like physics into something comprehensible for students.
Last year Online learning platform Physics Wallah entered unicorn club with $100 million funding

This is what their Faculty is doing today 🤦‍♂️pic.twitter.com/9Fnxayu7M0

— Dr Nimo Yadav (@niiravmodi) March 25, 2023
Physics wallah is no more guys. 
Downfall is here. pic.twitter.com/1Hs1pk73Ll

— ROHAN🫂 (@rohan10203070) March 27, 2023
The controversy, however, has not gone well with the Netizens. While the teachers may have garnered some support on YouTube, they faced criticism from netizens on other social media platforms who believed it was inappropriate to air their grievances publicly.
TICE News has written to Mr. Alakh Pandey and is awaiting his take on the issue.