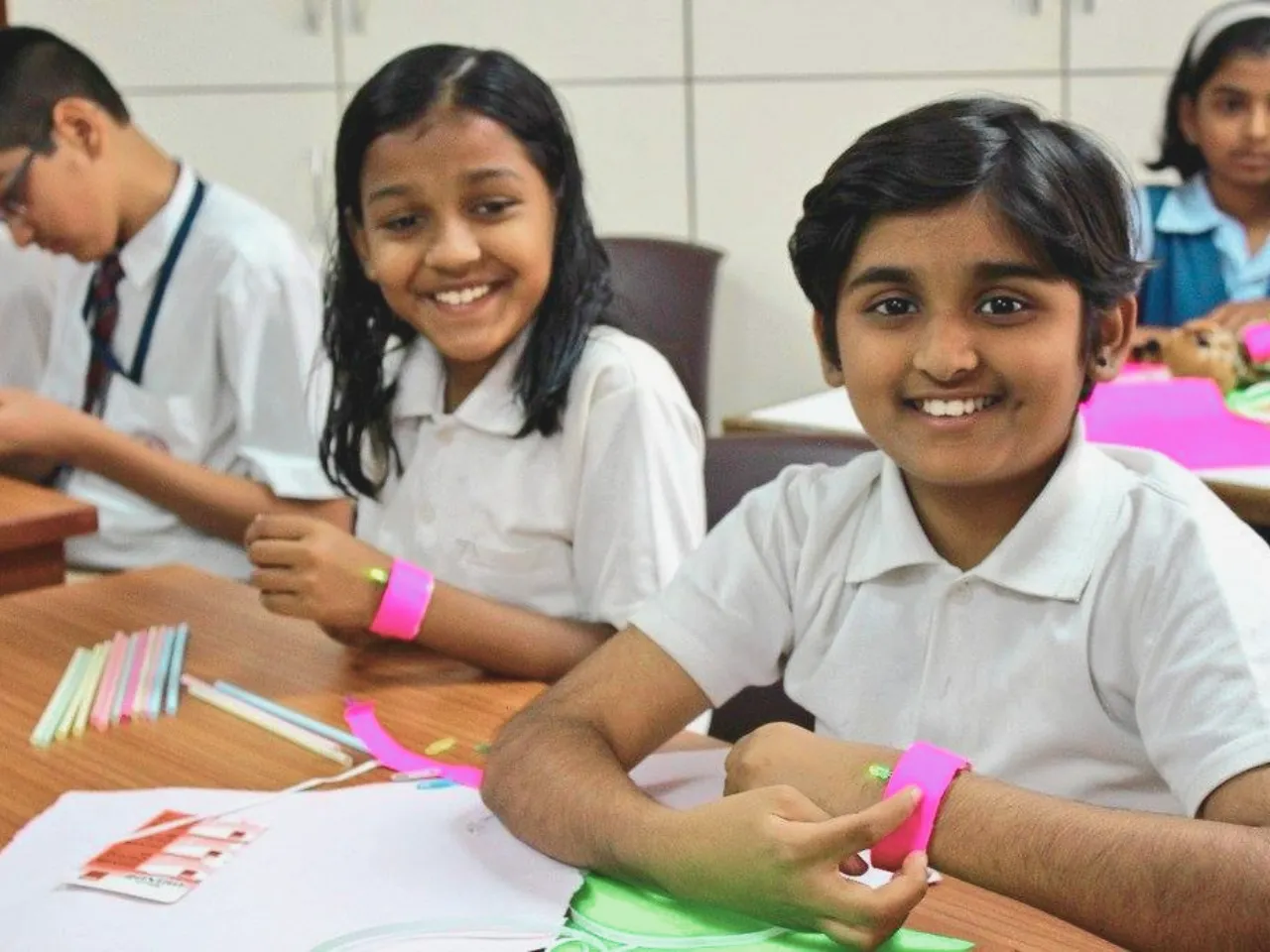 In a rapidly changing world, change is the only constant. While change can be uncomfortable, innovation can help in approaching it through the lens of opportunity. As India is at an inflection point with an incredible demographic dividend, to harness the potential of this opportunity, it is imperative to equip the future 'makers' of tomorrow with the right skillset and mindset. The National Education Policy (NEP) 2020 marked a watershed moment setting the direction of this pursuit for all the stakeholders. One such initiative to foster the spirit of innovation among children that precedes the NEP 2020 is Atal Innovation Mission, NITI Aayog's flagship initiative 'Atal Tinkering Labs'.
Atal Innovation Mission: Marking Seven Years of Impact
Atal Innovation Mission (AIM), NITI Aayog recently marked seven years of impact since the time of its inception in 2016. In July last year, AIM achieved its mandate of establishing 10,000 Atal Tinkering Labs (ATL) across the country. The initiative was launched by the Government of India to foster innovation and entrepreneurship in school students through establishment of makerspaces with access to the latest 21st century technological equipment like 3D Printers, Arduino boards, DIY kits etc. The program set out with a vision of creating a million neoteric innovators by promoting creativity, critical thinking, collaboration etc. skills in school students thereby focusing on bringing about a change in the mindset by moving away from rote learning and promoting hands-on learning. True to the tenets of the NEP 2020 which lays a strong focus on application-based learning, the initiative has been actively engaging over 7.5 million students in the ATL labs across the length and breadth of the country.
States' Roles Critical To Make ATL Initiative More Effective
An initiative of this magnitude comes with its fair share of challenges including sensitization and incentivization, capacity building, monitoring and evaluation, skilling, faculty/ school management support etc. Through its myriad of programs and initiatives, NITI Aayog was constituted to actualize the importance of cooperative and competitive federalism to enable good governance and facilitate improved performance of States/ UTs. On similar lines, to make the ATL initiative more effective, the States/UTs have a critical role to play. With education being a state subject, and implementing NEP 2020, the States/UTs have enough incentive to not only provide on-ground support to the ATLs but also to scale up the reach to truly saturate and democratize innovation in the schools. AIM has already been working with a lot of States/ UTs like Andhra Pradesh, Karnataka, Jammu & Kashmir etc. to enable this partnership.
Over the years, as ATLs have scaled up across the country by enabling a network of teachers, students, mentors working together to promote innovation and entrepreneurship. AIM has a community of exceptional teachers called Regional Teachers of Change (RTOC) and Exemplary Teachers of Change (ETOC) who help other teachers in their region to run the ATL lab effectively. Realizing the importance of a strong regional network as well as the peer to peer learning it facilitates, AIM is also piloting a hub and spoke model to unlock the potential of ATL clusters.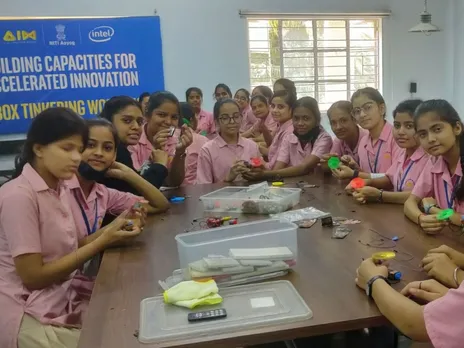 AIMs Hub and Spoke Model in AP
With 713 ATLs, the state of Andhra Pradesh has the fifth largest presence of ATLs in the country. AIM in collaboration with the State government, UNICEF and Vigyan Ashram has piloted the Hub and Spoke model in the state. Model schools were identified in every district which would act as 'hub' for other schools ('spokes'), thus creating an ever-increasing repository of learning resources and in-house technical expertise for the schools. State Government has appointed District Science Officers (DSOs) in every district who can help with regular monitoring and handholding of ATLs in their respective districts. A 2-day training workshop was also organized for teachers from all hub schools and DSOs in Vijayawada followed by on-field training sessions at Vigyan Ashram's learning center. These teachers and DSOs are now acting as ambassadors of the ATL movement in their respective districts.  There has been a considerable increase in the level of participation from schools in ATL innovation challenges and events including District level Science exhibitions as a result of this intervention. 
First-of-a-Kind State-Level Tinkering Lab Hub & Training Centre In AP
In a first-of-a-kind initiative to support capacity building of the ATL teachers in the state, the state government has also set up a State-level Tinkering Lab Hub and Training Centre. ATL In-charges from the state will be trained on a weekly basis through sessions conducted in this state-hub. Online sessions will also be held to enable participation from all the ATL labs in the state. Dedicated and skilled teachers are pivotal to successfully run an ATL lab and inspire students to innovate. Capacity building initiatives like these go a long way in making ATLs sustainable, ensuring that year after year, the students are able to make the most of the facilities despite changes in faculty and school management. These interventions in Andhra Pradesh prove to be a great example of Centre-State-Private collaboration and with proven results, these can be replicated in other states as well.
SRISHTI- Training ATL Schools In K'taka
Karnataka State Education Department along with UNICEF and Vigyan Ashram have also collaborated with AIM to enable ATL clusters for around 140 Government ATL schools of Karnataka. The cluster has 14 Model/Hub schools, each of which will guide 9-10 other ATL schools in the district. The initiative is named SRISHTI (Strengthening Rethinking and Innovation in Schools through Hands-on Tinkering and Inquiry). This training offers hands-on experience with different tools and software, as well as theoretical knowledge of Design Thinking.
500 ATLs To Come Up in J&K To Promote Innovation
In Jammu & Kashmir, 500 ATLs will be established in collaboration by the Central Government and the UT administration. This is a major push for promoting innovation in the UT which currently has 127 ATLs. Further, the administration has also identified district wise SPOC/leads to help the ATL schools run the labs effectively. As a result of this, the participation of students from the UT has gone up in the national level events and challenges run and supported by AIM. Recently, the girl students from the region who had participated in the coding for the satellite AzaadiSAT 2.0 were felicitated by the Indian Army.
Student Innovators in Gujarat Awarded Grant of Rs 20,000 
The State Government of Gujarat felicitated the top 75 ATL students in the state in a special event in Oct 2022 in the presence of Shri Rajeev Chandrasekar, Hon'ble Minister of State for Electronics and Information Technology & Skill Development and Entrepreneurship, Government of India. Each student innovator among the top 75 was awarded grant of 20,000 rupees from the State Government of Gujarat under the Student Startup Innovation Policy (SSIP 2.0). The State Government is also looking at ways to provide the ATL access to all the secondary schools in the state.
'Tinkering' Movement: From Being Solution-Consumers To Becoming Solution-Makers
Over the years, the cumulative efforts of the ATL program coupled with the support from other government institutions, private industry (CSR) and the academia, has unleashed a 'Tinkering' movement across the country. There is a clear shift in the mindset of the young innovators participating in the ATL as they move away from being solution-consumers to solution-makers. For instance, a class 6 student from Vizianagaram, Yasashwini Vanappali, created an ecofriendly pen called 'Eco-pen'. This innovation brought her several accolades including a cash award at India International Science  Festival. She has also conducted several workshops for her fellow classmates on the process to make eco-pens. Yasashwini's father who is also the ATL In-Charge of the ATL in the school mentored her as she tinkered and designed this innovation. He says that though she's hearing impaired, the disability has never stopped her from following her creative ideas. 
Another success story from the region is of KLS Priyavarshini, a class 10 student from Andhra Pradesh Social Welfare Residential (APSWR) Centre of Excellence, Visakhapatnam.  In 2018, Priyavarshini had submitted a project named "Multipurpose Agriculture Robot", an innovation extremely useful to farmers as it performs 5 functions at a time < i.e., Ploughing, Seeding, Watering, Spraying pesticides and fertilizers, Sapling>.  The tool is powered through Solar Energy which also makes it an eco-friendly innovation. The project was selected in the Top 100 teams of the ATL Marathon, which is the flagship national innovation challenge run by AIM. She along with her team got a chance to go to the Atal Incubation Centre MIT at Pune, Maharashtra to refine and implement their project as part of the Student Internship Program. She also got a chance to meet Shri Kailash Satyarthi, the Nobel Peace Prize winner in Delhi. After being shortlisted in the top 50 teams, she was selected for the AIM SIRIUS Innovation program, a bilateral innovation program between India and Russia for student innovators and got an opportunity to go to Russia for a week-long student exchange bootcamp. Priyavarshini also got a change to present her project to President Putin. Being an inspiration to all young girl innovators, she also delivered a keynote speech at SHESTEM, a bilateral program between India and Sweden to promote girls and women participation in STEM, at the Sweden-Indo Nobel Week 2020. There are plenty of such success stories from all parts of the country, however, to push this movement forward and sustain the momentum that's been created over the years, all the ecosystem players must come together.   
To conclude, one cannot argue that the NEP 2020 has given us ambitious goals to transform our education sector. Proactive initiatives taken up by different States/UTs not only strengthen the efforts taken by AIM to encourage creativity and entrepreneurship in school students but will also go a long way in taking the tinkering movement to the last mile. With the third largest start-up ecosystem in the world, initiatives like Atal Tinkering Labs are paving the way for the entrepreneurs and leaders of tomorrow. However, there are more than 2.5 lakh secondary and senior secondary schools in the country, so to truly democratize tinkering - it is imminent for the Center and the State/UT governments to collaborate to reach all the young innovators-in-making of the country because as Benjamin Franklin had said – "An investment in education always pays the highest returns".
The article is authored by Ms. Vishnu Priya Bijapur and Mr. Prateek Deshmukh, both currently working as Innovation Leads at Atal Innovation Mission, NITI Aayog.
Atal Tinkering Labs are nurturing the seeds of innovation among youngsters. pic.twitter.com/vtAqVJGQLq

— PMO India (@PMOIndia) May 11, 2023