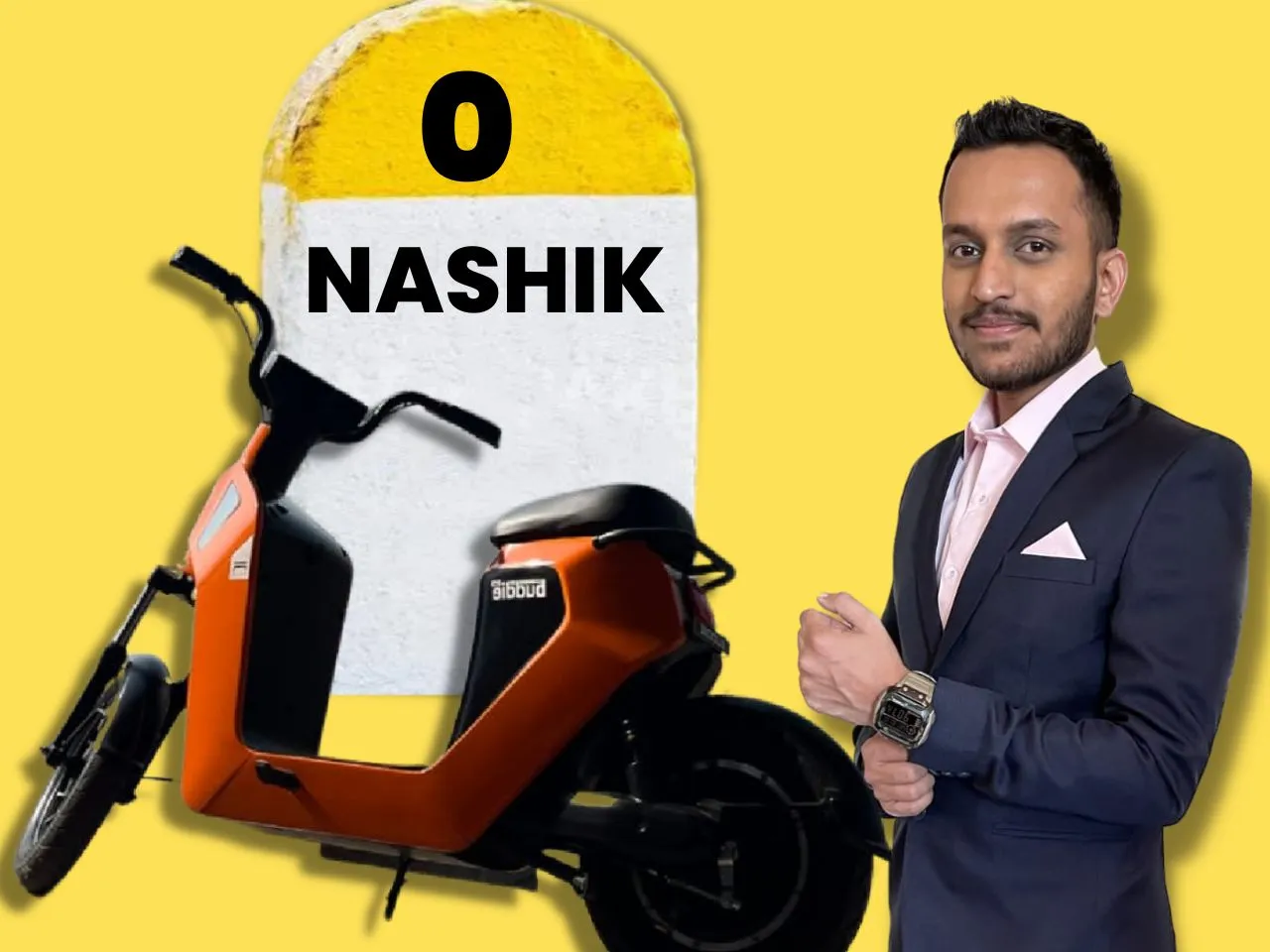 Revamp Moto, a fledgling start-up in the automotive sector, has achieved almost the impossible in just a time span of 2.5 years. Against overwhelming odds, the auto company claimed the coveted National StartUp Award 2022.
With more than 87,000 startups in the country, vying for the prize, and over 1,100 entries in the transportation segment alone, the competition was fierce. But Revamp Moto, with their innovative electric vehicles, stood tall among the crowd. The Nashik-based startup has a customer base spared across India and is now planning for global expansion.
But how did this 2.5-year-old startup rise to the top? What sets their product apart from the competition? What is the vision behind it? To find answers, TICE engaged in an exclusive conversation with Pritesh Mahajan, co-founder of Revamp Moto.
The startup story from Nashik! 
Q: How Does Winning the National Startup Award Feel?
"Winning the national award is an incredibly fulfilling and humbling experience. It's a validation of all the hard work, dedication and belief that went into creating and building our company," he said. Their hard work and dedication paid off when they were awarded the National Start-Up Award 2022, an honor that Pritesh Mahajan, in an exclusive interview with TICE News, called "a dream come true."
At the same time, it's an honor to be recognized by the government and to be among the best of the best in the industry. Winning this award is an important step towards achieving our vision of providing modular utility platforms that empower and enhance the society, and we are all excited to continue working towards that goal, he added. 
The Foundation of Revamp
It all began in September 2020, when three ambitious individuals from Nashik - Jayesh Tope, Pushkaraj Salunke, and Pritesh Mahajan - came together to share resources and collaborate on their individual projects. Little did they know that their union would birth a new era in the transportation industry.
As the co-founder and Director, Jayesh Tope led the charge with his vision of creating a socio-economic impact through their products. Pushkaraj Salunke, Co-Founder, brought his technical expertise to the table, while Pritesh Mahajan, Co-Founder, provided the business acumen to drive the startup forward.
"To begin with, we initially took a loan of 30 lakh from my father. Later we also got into Shark Tank and secured sufficient funds for our startup," he shared. 
"On Shark Tank Season 1 we sought an investment of ₹1 crore for a 1% share at a valuation of ₹100 crore. The sharks were impressed by the innovative modular utility platform concept, and a fierce bidding war ensued between BharatPE co-founder Ashneer Grover and the duo of Aman Gupta and Anupam Mittal," he added. 
In the end, Revamp Moto secured the offer from Gupta and Mittal, who invested ₹1 crore in the company for a 1.5% stake at a valuation of ₹66.67 crore on camera. But the company's success didn't stop there, as they also received a significant amount of investment off camera from other sharks who saw the potential in Revamp Moto's game-changing technology. With this new investment, Revamp Moto went on well on its way to revolutionizing the Indian automotive industry.
The USP & Product Offerings
Reportedly, India has hundreds of startups within the EV segment. The  market has become highly competitive, with brands like Ola, TVS, Ather, and others. And if we talk about the overall transportation industry, around 1,100 startups registered for the National Startup Awards 2022. But what made Revamp Moto win over all of them? 
According to Pritesh, the founder of Revamp Moto, the key was the company's focus on creating modular utility platforms. "Rather than trying to compete with established players in the electric vehicle market, we decided to focus on creating platforms that would allow customers to use our vehicles in a way that best suits their needs," he said.
This approach has allowed Revamp Moto to differentiate itself from other electric vehicle startups, and to offer customers a level of customization and adaptability that is unmatched in the market. "Our vision is to create solutions that empower society and improve livelihoods," said Pritesh.
Currently, the company offers two models of vehicles: a low-speed vehicle and a high-speed vehicle, both of which are designed to be customizable and adaptable to the customer's specific use case. With this focus on utility and adaptability, Revamp Moto has cemented its position as a leader in the electric vehicle market in India.
The Marketing Mantra
In terms of marketing, Revamp Moto is currently focusing on organic marketing and reaching out to influencers and real-life influences, such as the sharks from Shark Tank India, to promote their vehicles. 
"We believe that by being present in front of large numbers of people, We can create awareness about our products and don't require a large marketing budget currently. We are also planning to use social media to increase our presence and reach a wider audience," explained Pritesh.
The Journey Wasn't Easy!
Now that Revamp Moto has emerged as a national award winner doesn't mean that their journey was always as easy! Just like every other newcomer, the founders of Revamp Moto have had their fair share of struggles on the road to success. 
"We faced several challenges in early stages. One of the main challenges was the lack of infrastructure," said Pritesh. "But with grit and determination, the team was able to secure a workspace and office space by borrowing from my father," he added.
According to Pritesh, as a startup, hiring was also a challenge for Revamp as people were hesitant to leave their well-paying jobs to join a start-up that had not yet established itself. Despite these challenges, the company has been able to grow and attract experienced professionals from the industry to join their team.
Another challenge was funding, but the company has made an effort to be more sustainable and profit-driven rather than relying on funding. The company still faces challenges in reaching out to end customers, but they are working on it by partnering with other brands and building dealership networks.
What other startups can learn?
They had their fair share of challenges and obstacles on the road to success, but they were able to overcome them and reach this point. We asked the CEO, Pritesh, about his thoughts on why many start-ups fail in the early stages, and what other start-ups can learn from their experience.
Pritesh feels many start-ups fail in the early stages not just because of the lack of funding but mostly because of the lack of understanding among the company and clarity about their vision. 
He suggests that having a clear goal and understanding between the founders and initial team is crucial for success. Additionally, it's important to have a flexible approach, be open to feedback, and constantly adapt and evolve the business. It's also important to have a clear understanding of the market and customer needs. Lastly, it's important to be persistent, have patience and not give up easily.
Another suggestion would be to focus on creating a sustainable business model. A lot of startups focus on just getting funding, but it's important to have a clear understanding of how the business will generate revenue and be profitable in the long term. It's also important to focus on creating a unique selling point or a unique solution that sets the company apart from the competition.
"Another important aspect is to have a strong team in place. A start-up is only as strong as its team, and it's important to have a diverse team with different skills and expertise. This will not only help in the development of the product but also in the growth and scaling of the business," he asserted. 
Lastly, it's important to have a strong support system in place. This includes mentors, advisors, and a network of industry experts who can provide guidance and support in different areas of the business. This support system can be invaluable in navigating the challenges that come with starting and growing a business, he added. 
What's Next?
Pritesh shared that they will be launching a high-speed vehicle, the Metro, in the next three to four months. The company received a positive response and recognition for the Metro on Shark Tank India and has already received over 50,000 letters of interest for the vehicle. The company is also planning to start pilot testing for its Mitra vehicle next month.
The start-up is based in Nashik, a tier-two city, but has a scattered customer base across India and is planning for global expansion in the future. They have received interest from VC firms and high net worth individuals based in Dubai and UAE, who believe the utility vehicles will be well-received in their markets as well.